Genetic testing gets political, finally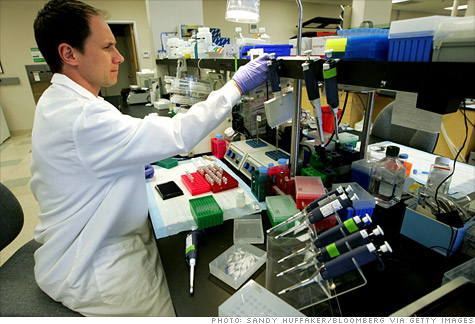 FORTUNE -- Last week, the nascent genetic testing industry received a thrashing that was only partly deserved.
It happened on Thursday, when congressional investigators released the results of a secret investigation into the claims made by 11 genetic testing companies. These include high-profile entrepreneurial efforts backed and supported by the likes of Google (GOOG, Fortune 500), Genentech (DNA), former Vice President Al Gore, and the Silicon Valley venture capital firm Kleiner, Perkins, Caufield and Byers.
The investigation by the Government Accountability Office accused the companies of providing "misleading," "deceptive" and "questionable" claims about DNA tests that purport to inform customers about their risk factors for everything from heart attack to restless leg syndrome. And this was just in the title of the report -- "Direct-to-Consumer Genetic Tests: Misleading Test Results Are Further Complicated by Deceptive Marketing and Other Questionable Practices."
The report was ham-handed in how it lumped legitimate companies with clearly bogus online outfits. Yet GAO researchers did report some disturbing findings: that most genetic tests are based on preliminary science; that tests for the same disease sometimes produced contradictory results depending on the company; and that the likes of 23andme and Navigenics, both based in the San Francisco Bay area, may have exaggerated the usefulness of their products.
These are hardly new accusations. From the launch of the first companies in this space in 2007, friends and foes of commercialized genetic testing have pointed out that most tests are preliminary and need further validation. Nor have the companies' results for the same disease or trait always matched up. I personally discovered this in the spring of 2008 while preparing for a book in part on genetic testing when I was told by three companies -- Navigenics, 23andme, and deCODE genetics -- that my genetic risk for heart attack was high, medium, and low. Two years later, these inconsistencies still have not been corrected.
The GAO report covers the same ground, with investigators sending in DNA from five people, whose results for serious diseases such as leukemia and hypertension ranged from above average to below average risks for the same person, according to different companies. There are scientific and statistical reasons why the results differed, but there is no getting around the fact that no industry offering information about a person's likelihood of getting a terrible disease can afford to be this inconsistent.
A media-fueled frenzy
Lambasting the companies, however, misses a crucial point -- that virtually the entire life sciences community is complicit in what has become a less than ideal effort to translate the groundbreaking genomic discoveries of the past two or three decades into something useful for patients and consumers. This includes those who report on it, regulate it, and, yes, investigate it in Congress.
For three years, the FDA and Congress mostly sat on the sidelines for almost three years. Advisory boards were convened that held hearings and issued reports warning about the deficiencies, but the federal government did little until recently to address them.
The media spent the past three years reporting on the direct-to-consumer genetic testing industry with a regrettable lack of skepticism. In part this was driven by the giddiness surrounding the completion of the Human Genome Project in 2003 -- and the promises made of medical miracles as yet unrealized -- that was then fused with the techno-glam of Silicon Valley where the consumer genetics industry was launched soon after. Media hysteria culminated in 2008 when Time magazine (which, like Fortune, is owned by Time Inc.) named retail genetic testing the Invention of the Year.
The biomedical research community has done little more than grumble about the commercialization of DNA markers that they themselves have discovered, sometimes to media acclaim, knowing that these markers were not ready for prime time. Their work has been a boon to a basic understanding of biology. But they should not be surprised that entrepreneurs read the press and the studies published in prestigious scientific journals and believed that there was perhaps a stronger link between certain DNA markers and disease than really existed.
Researchers, the National Institutes of Health, and Congress should start taking seriously the need to systematically validate the thousands of tentative DNA markers for diseases that have already been identified, and those that continue to be turned out at a rate of several dozen a month.
Historically, it's never easy to shift new innovations into the mainstream. Nor is this the first time our technology-loving society was overly optimistic about a new technology. The Internet and the dot-com craze come to mind as a chaotic and costly experiment that created considerable carnage before ultimately succeeding.
Progress on regulation
There are ways to smooth out these transitions. In the same week that the GAO report was issued, the FDA held two days of hearings and workshops addressing how to regulate DNA tests. This was a carefully orchestrated effort by FDA Commissioner Margaret Hamburg and NIH Director Francis Collins that reached out to researchers, physicians, companies, ethicists and others to work towards a regulatory structure that has a decent chance of balancing the need to protect consumers with the equally vital need to allow innovation to move forward in commercial genomics.
Even these hearings, however, were triggered by an event that forced regulators to act. This was the announcement last May that a San Diego genetic testing start-up, Pathway Genomics, was planning to sell genetic tests in thousands of Walgreen retail outlets across America. The FDA responded by declaring for the first time that genetic tests related to disease risks must be approved by the agency as medical devices.
Curiously, the most sensible group in this imbroglio is the very group that the GAO insisted needs protection -- consumers. Despite the whirligig of the media and official inaction, consumers mostly gave commercial genetic testing for disease a big yawn. Reportedly, fewer than 100,000 people have become customers. In part this comes from the still high cost of products ($400-$1000), although arguably it's also because consumers by and large haven't been sold on the usefulness or relevance of the tests.
One positive outcome of this negative wave washing over genomics last week is that all groups -- industry, research, government, the media, and consumers -- are now on notice that genetic testing is being taken seriously. Just possibly this will be remembered as the first step to achieving a true genomic age.