Stocks: Earnings help, economy hurts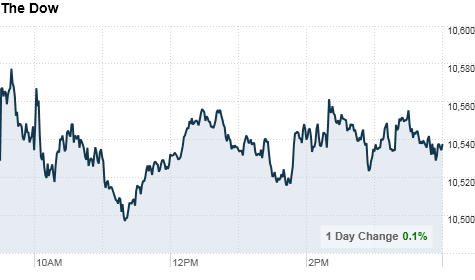 NEW YORK (CNNMoney.com) -- Stocks churned Tuesday, losing steam after a three-session run, after a big drop in consumer confidence offset better-than-expected profit growth from DuPont, UBS and others.
The Dow Jones industrial average (INDU) added 12 points, or 0.1%. The S&P 500 (SPX) lost just over 1 point. The Nasdaq (COMP) composite lost 8 points, or 0.4%.
Consumer confidence declined in July, according to the Conference Board's closely watched index, which fell to 50.4 from an upwardly revised 54.3 in June. Economists surveyed by Briefing.com thought the index would decline, but only to 51. The report served to underscore the weak outlook for consumer spending heading into the fall, and caused stocks to erase early gains.
"The consumer confidence index was below expectations but not surprising," said David Chalupnik head of equities at First American Funds. "We had a down market in May, June and early July, and that weighs on consumer spending and confidence."
Better-than-expected results from a number of companies had propelled markets in the morning, extending the recent rally. But that advance lost steam, with technology and consumer stocks hit the most.
Stocks gained Monday after FedEx (FDX, Fortune 500) lifted its profit forecast and new home sales grew more than expected in June. The advance built on last week's rally, pushing the Dow into positive territory for the year, along with the Nasdaq. The S&P 500 moved into positive territory for the year on Tuesday morning, before retreating.
Company results: Dow component DuPont (DD, Fortune 500) reported higher quarterly sales and earnings that topped estimates, thanks to higher prices and increased demand. The chemical maker also boost its earnings forecast for the year. Shares gained 3.6%.
Swiss bank UBS (UBS) reported higher quarterly profit that topped estimates, thanks to the stock market rally and currency trading gains. U.S.-traded shares gained 9%.
Swiss rival Credit Suisse (CS) also reported a better-than-expected profit as tax and accounting gains tempered the impact of investment banking losses. Shares gained 4.4%.
German competitor Deutsche Bank (DB) reported higher quarterly earnings. But revenue was weaker due to a decline in its investment banking profit. Shares gained 2.8%.
Tellabs (TLAB) reported higher quarterly sales and earnings that beat estimates and lifted its fiscal second-quarter outlook. But shares of the communications gear maker dropped on concerns that it will lose some of its business building wireless networks for AT&T to a rival vendor. Shares fell 5.9%.
With just over one-third of the S&P 500 having reported, Earnings are currently on track to have risen 34% from a year ago, according to earnings tracker Thomson Reuters.
Chalupnik said the gap between economic and earnings news reflects that U.S. companies benefit from exposure to strong emerging markets and a not-yet slowing European economy, offsetting the weakness in the U.S. economy.
BP: BP posted a huge quarterly loss of $17.2 billion due to costs connected to the Gulf of Mexico oil spill. The company also said that British CEO Tony Hayward will be replaced by American Robert Dudley Oct. 1. BP (BP) shares fell 1.7%.
Housing: The Case-Shiller 20-city home price index rose 1.3% in May versus April and up 4.6% from a year earlier, suggesting pricing has stabilized.
World markets: European shares rose. The CAC 40 in France gained 0.8%, Germany's DAX rose 0.2% and the FTSE 100 added 0.3%.
Asian markets finished mixed. Japan's benchmark Nikkei index edged down 0.1% and the Hang Seng in Hong Kong ended 0.6% higher.
Currencies and commodities: The euro fell against the dollar, while the U.S. currency gained versus the Japanese yen.
U.S. light crude oil for September delivery settled down $1.48 to $77.50 a barrel on the New York Mercantile Exchange.
COMEX gold's August contract fell $25.10 to $1,158 per ounce.
Bonds: Treasury prices fell, and the yield on the 10-year note climbed to 3.05% from 2.99% late Monday. Bond prices and yields move in opposite directions.
Market breadth: Breadth was negative. On the New York Stock Exchange, losers beat winners by eight to seven on volume of 1.11 billion shares. On the Nasdaq, decliners edged advancers by seven to six on volume of 2.07 billion shares.