Apple launches new desktops for power users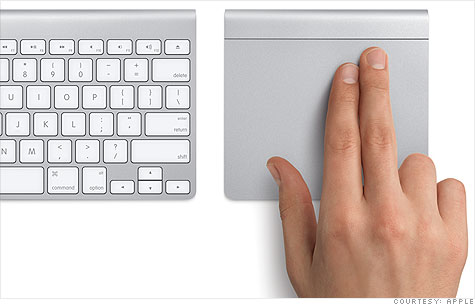 NEW YORK (CNNMoney.com) -- Apple's gadget fans got plenty of new toys recently, with the launch of the iPad and iPhone 4. Now, it's the power users' turn.
Apple on Tuesday unveiled a new Mac Pro model, adding quad-core and 6-core Intel Xeon processors to the line of high-end desktop machines that Apple last refreshed in early 2009.
Designed to be extensively customizable, the new Mac Pros can be configured with up to 12 processing cores, four 512GB solid state drives and four 2 terabyte hard drives. Apple will begin selling the new Mac Pros next month, which have a starting retail price of $2,499.
Apple also updated its line of all-in-one iMac computers. With a starting price of $1,199, the new iMac includes a 21.5-inch monitor (a 27-inch model is also available), 3.06 GHz Intel Core i3 processor, 500GB hard drive, and ATI Radeon HD graphics processor.
Also launched Tuesday is a new 27-inch LED Cinema Display, priced at $999. Intended for Mac laptop and desktop users, the monitor includes Apple's iSight video camera, a microphone and speakers, and a powered USB 2.0 hub.
But the new product that set bloggers chatting the most is a $69 "magic trackpad" designed to let Mac desktop users mimic the experience of a MacBook Pro touchpad. Made of wear-resistant glass, the surface is 80 %larger than Apple's notebook trackpad and sits at the same height as Apple's wireless keyboard.
Apple also detoured from its PC roots to launch a consumer electronics gadget: a $29 charger for AA NiMH batteries, which fit Apple's wiress mouse and keyboard. The charger comes with six batteries that Apple says will hold a charge for up to 10 years -- "which means you can finally break the cycle of buying and disposing of those toxic, single-use alkaline batteries," the company touts in its Apple Store listing for the new device.