Humans now power Ask.com's engine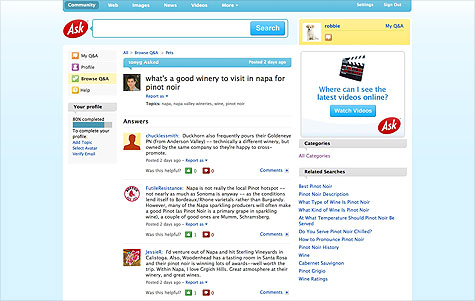 NEW YORK (CNNMoney.com) -- For years, Ask.com has basically been roadkill in the search-engine wars. Trailing way behind Google, Yahoo and Microsoft's Bing, it has a market share online data tracker ComScore estimates at just 3.6%.
But the search market is so vast that a teeny sliver of it is still enough to make Ask.com the sixth-largest Web property in the world. The site draws more than 90 million unique visitors a month, according to ComScore.
Trying once again lure visitors away from the Google juggernaut and build its market share, Ask.com is going back to its basics. The site is returning to the mission it launched with in 1996: answering questions that users ask in natural, everyday English. But to do that, the company will do something that seems a bit odd in the world of complex, automated search algorithms.
Ask.com will now be relying on actual humans to field customers' queries.
Starting Tuesday, through a new "Ask the Community" tool, users will be able to pose questions to a group of self-proclaimed "experts" across a wide variety of fields. Responses will be delivered by e-mail, and Ask.com believes wait times will typically be less than 10 minutes. Once the answers come in, they will also appear online so that subsequent inquisitors can see those answers.
"As users continue to embrace the social Web, now is the perfect time to extend our technology beyond finding just pages that have answers to people who do as well," says Doug Leeds, president of Ask.com.
Ask.com is employing a few hundred staffers to jump-start the community and answer questions. Eventually, the company hopes smart volunteers take on most of the load.
It's a clever idea -- and Ask.com isn't the first to try it. The Web is littered with failed past attempts.
WikiAnswers is the largest such site, but the vast majority of the question posted there go unanswered.
Google tried paying researchers for answers, offering bounties ranging from $2 to $200. But after five years of experimenting it pulled the plug on Google (GOOG, Fortune 500) Answers, shutting the project down in 2006.
Yahoo (YHOO, Fortune 500) Answers and Amazon.com's (AMZN, Fortune 500) Askville are powered by volunteers, and have muddled along for years trying and discarding various strategies to build a user base and generate quality responses. Both sites now incorporate game mechanics. awarding points to their most active participants.
Chasing the 'Holy Grail'
So why does Ask.com, acquired by digital conglomerate IAC (IACI) in 2005, think it can succeed where so many others have failed?
It already has one edge, Leeds says: 30% of the site's current traffic comes in the form of questions entered into Ask.com's search box. His theory is that people first go to Google and other sites to search with keywords, but if they can't get their questions answered, they then turn to Ask.com.
Playing to that trend, Ask.com is already data-mining to present many of its search results in the form of an answer. For instance, a search for "who is the fastest man in the world" gives the answer: "Usain Bolt, who holds the world records for both the men's 200 m and the men's 100 m, is the fastest person in the world."
The same search on Google doesn't answer the question outright, but the top link is a Wikipedia article on Usain Bolt.
But that was an easy question. More complex, subjective questions are trickier for algorithms to answer. What about, "What one piece of exercise equipment should I buy if I want to spend less than $300?"
The answer to that isn't something you can easily search for. Typing that into Google yields several pages of exercise equipment reviews and a few sites that offer a buying guide for elliptical trainers. Reading those sites may give you the answer you're looking for, but asking an expert would produce a better answer.
That's where Ask.com's new "Ask the Community" function comes in.
Google and others have called computers' ability to understand semantics and answer questions the "Holy Grail" of online search. Leeds expects that the business that finally gets it right will be worth "tens of billions of dollars." IBM's Watson project -- best known for yielding a supercomputer that plays Jeopardy -- is aimed at this very problem.
But Leeds calls the automated solution a "red herring," saying it's not possible for computers to ever answer questions the way that humans can.
If Ask.com can crack the code and make that work, it will have finally found the answer to its own business-model problem -- and to the question Silicon Valley has been asking for a decade:
How can a search engine improve on Google?