Building your brand (and keeping your job)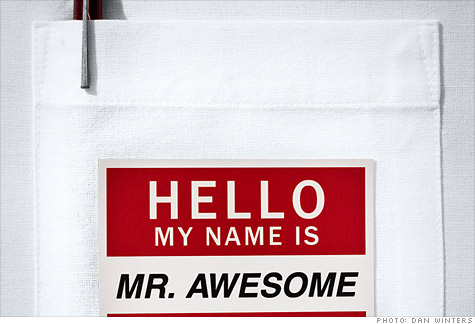 FORTUNE -- Scott Monty's personal brand doesn't take a back seat to anyone else's -- not even that of Ford Motor Co., his employer. "I'm not somebody who can be accused of using Ford's brand to benefit my own," says Monty, the car giant's first global digital and multimedia communications manager. "If anything, the opposite is true."
Is somebody's thinking due for a tune-up? Ford Motor Co. (F, Fortune 500) is, after all, the 107-year-old industrial brainchild of the iconic Henry Ford, birthplace of the Model T, originator of the modern assembly line. Scott Monty? He's a 40-year-old father of two who coined the word used to describe a gathering organized on Twitter: tweetup. (Okay, so it's hardly in the OMG category. But it beats "staycation.")
As a former employee at a B-to-B ad agency and at a social-media strategy firm, Monty spent about three years making a name for himself in social networking by blogging about the convergence of marketing, advertising, and PR. When people at Ford approached him in December 2007 he waved them off, saying he didn't want to leave Boston. Five months later he made a U-turn. By July, he had moved to Detroit. "I knew that I had the ability to leverage my personal brand on behalf of the company," he says.
When Monty joined Ford, he brought with him 3,500 Twitter followers; he now counts 41,000, conceding that many of those came with the blue oval logo that now accompanies his tweets. But it has been a two-way street. Last year Ford CEO Alan Mulally signaled as much by joining Monty and taking questions from Twitter. "I brought with me a degree of credibility," Monty says. "I was somebody who wasn't going to be looked at as a corporate shill." And he's kept his Twitter handle as @scottmonty rather than adding the Ford brand. "I was Scott Monty before I came to Ford, and I'll be Scott Monty after I leave Ford," he says.
That there's perceived value in being Scott Monty -- as calculated not only by Monty himself but also by his employer -- is a tribute to his mastery of personal branding techniques. It also speaks to a revolution in the way people approach their careers today. The notion that humans, like paper towels and breakfast cereals, need carefully calibrated packaging to avoid being commoditized was first articulated by Tom Peters back in 1997. But Peters's opus was aimed at those yearning to rip open their suit jackets, say sayonara to big-company life, and do their own thing. It wasn't always so relevant to those who enjoyed their corporate jobs -- or at least wanted to keep them.
Today, at a time when jobs are scarce, successful employees working at large companies desperately need to create a "brand within a brand," a professional passport that travels with them from place to place. It would seem easier than ever to do so, thanks to Facebook, Twitter, LinkedIn, and other social media. Yet those same tools also make it easier than ever to mess up (with those mistakes preserved online forever). "The personal branding process can create stress within a corporation," says Jerry Wilson, senior vice president and chief customer and commercial officer at Coca-Cola (KO, Fortune 500). "People will see if you are merely trying to advance your own career, as opposed to contributing to the success of the organization."
Building a successful brand within a larger brand requires very different skills from those of a free agent. Yet for all of the gazillions of personal branding consultants, how-to books, and seminars on the topic, there are few clear guidelines on finding that balance. A personal brand must highlight your special strengths, yet at the same time it also must not be too self-promotional, an all-too-common error at a time when last night's drunken tweets are everyone's business. It must make you a team player who indisputably adds value to your current company while simultaneously letting you transition seamlessly into the next one. "The focus should be on developing yourself, not on promoting yourself," advises Hubert Rampersad, founder of Amsterdam-based Personal Branding University, which offers classes and degrees on the topic.
Take the Ford/Monty arrangement. While Monty's brash declarations make it sound as if he is vrooming toward a head-on collision with his superiors, "They recognize my knowledge of the space, and they give me the freedom to do whatever I need to do," he says. "With personal branding, there's a constant debate about who benefits more -- the company or the individual. All the demarcations are blurred." If done correctly, everyone wins. And that's good news.
The bad news is that doing it correctly is really tough. So how do you do it? How do you build your own brand in today's über-connected, hyper-networked world -- without alienating everyone who works with you? We asked five real-life veterans of the brand wars to share their stories:
Case study No. 1: Don't be overeager
Case study No. 2: The brand rehabber
Case study No. 3: Branding, not bragging
Case study No. 4: Edit thyself
Case study No. 5: Be sensitive to changing priorities
The promised brand: How to get there