It's official: We're all burnt out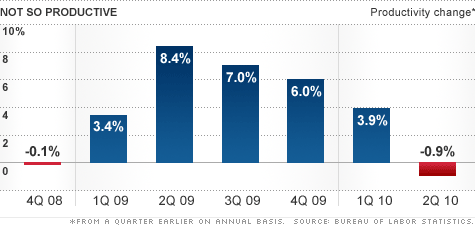 NEW YORK (CNNMoney.com) -- Feeling a little more tired after a long day of work lately? Join the club.
The Labor Department reported Tuesday that worker productivity fell 0.9% in the second quarter. That's the first decline in eighteen months and may be a sign that employees have finally gotten to the point where they are simply stretched too thin.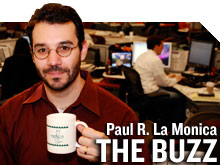 The amount of hours worked rose at a faster pace in the month than actual economic output. That means that companies may no longer be able to rely on cutting costs, particularly through layoffs, to juice profits.
"What's happened is a lot of U.S. companies have reached the limit of how much they can slash their workforce and work existing employees to the bone," said Nariman Behravesh, chief economist with IHS Global Insight in Lexington, Mass. "At some point, even weak spending growth will require businesses to hire more people to meet the demand."
Productivity rose at a 3.5% annual clip last year, much higher than normal averages of around 2%. Companies did more with less during the worst of the recession. At the time, that was the only thing they really could have done.
But if companies thought they were establishing a new period where productivity could keep climbing without bringing people back to the work force, Tuesday's numbers are a rude awakening.
"The decrease in productivity is substantial and shows we're in a catch-up period. Businesses couldn't sustain the productivity gains like they had in the middle of last year," said Kurt Karl, chief U.S. economist with Swiss Re in New York.
So what's that mean going forward? Hopefully, businesses are getting the message that it's time to slowly, but surely, bring people to work.
That would be welcome news for the still swelling ranks of the unemployed, as well as those who feel overworked and stressed out at their current jobs.
"The slowdown in productivity may be a hint that instead of increasing the work week and bringing in people for more overtime, now may be the time to increase hiring. Working people longer hours may be hindering productivity," said Michael Strauss, chief economist with Commonfund, a money management firm based in Wilton, Conn.
It may seem counterintuitive at first to suggest that the reason productivity fell in the second quarter is because it rose in 2009. But it actually does make sense.
Behravesh said that the increase in productivity during the past couple of quarters was "unusually strong" and that companies probably "overdid it" with layoffs during the recession. He said that if for no other reason than keeping employee morale up, companies may have to hire more to avoid worker burnout.
Still, he cautioned that job growth is likely to remain modest for the next few months. He said that the private sector will probably only add about 60,000 to 65,000 workers a month to payrolls until sometime this fall.
To put that in perspective, the government reported Friday that private sector businesses added 71,000 workers in July. That was considered a disappointment.
But Behravesh is hopeful that the private sector may be adding over 100,000 jobs a month by the end of this year and 150,000 jobs a month by the middle of 2011.
Whether or not that's too optimistic a target remains to be seen. But as I've pointed out in several columns in the past few weeks, it's clear that businesses have to step up and start hiring or else the economic malaise will continue for a lot longer.
Karl said he's expecting productivity to be weak for some time and that it's unlikely that the annual productivity gain for 2010 will be higher than 2%.
So in order to make people more productive again, companies may have to be brave and realize that they need to spend money in order to make money.
"It's obvious the economy is slowing down. Why are we losing momentum? We may have to add to the workforce in order to grow a little bit," Strauss said.
- The opinions expressed in this commentary are solely those of Paul R. La Monica. Other than Time Warner, the parent of CNNMoney.com, La Monica does not own positions in any individual stocks.