Oxy 10: reasons the proxy fight at Occidental isn't accidental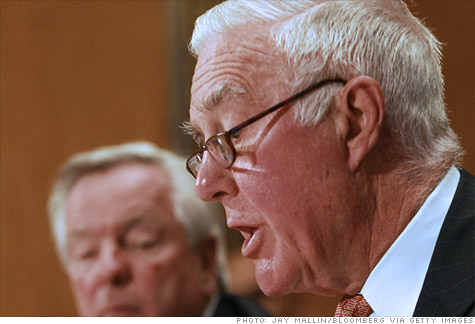 FORTUNE -- When companies face public proxy battles like the one Occidental is facing, there are usually a whole host of complaints behind the salvo. Oxy is no exception, but savvy investors may have noticed a warning sign the company has in common with, for example, HP (HPQ, Fortune 500): high executive pay. If you've been reading about high executive compensation over the past five years, you've seen Occidental CEO Ray Irani has been right there with HP's Mark Hurd at the top of the charts.
Sure enough, a fight erupted earlier this month, according to the New York Times, over a general "disgust" among investors, centered on Irani's outsized pay.
Excessive pay can be a signal of lax board oversight, but activist investment management firm Relational Investors and the large pension fund CalSTRS (the California State Teachers' Retirement System) have other grievances that have forced them into a battle for control over some seats on the board.
Other investors, boards, and companies can learn from Oxy's proxy by looking back through some recent history for signs that Relational and CalSTRS were getting ready to play hardball with management. Here are the "Oxy 10" signals that a battle for control over the company's direction has long been brewing.
1) There are a large number of shareholder proposals on the proxy.
More shareholder proposals mean shareholders are paying attention and want change. Up from just one proposal in 2009, Occidental (OXY, Fortune 500) had seven proposals on its March 23, 2010 proxy, all of which the board opposed. By agreeing to strengthen the duties of its Lead Director position, on April 27, Occidental was able to convince the Legal and General Assurance of the UK and the AFL-CIO to drop their proposals to separate the Chair and CEO positions.
In 2009, the AFL-CIO had submitted a proposal to the firm to eliminate the so-called golden coffin awards, which would pay the CEO's heirs at his death. In advance of the 2009 proxy, Occidental agreed to no longer "pay for no pulse", according to Dan Pedrotty, Director of the AFL-CIO Office of Investment.
2) Shareholders say "no" in their advisory vote on pay -- and all members of the compensation committee receive high "no" shareholder votes in their re-election.
Richard Kline, Vice President of Communications and Public Affairs at Occidental, says the board initiated a voluntary say on pay vote as part of its ongoing dialogue with shareholders.
In what was a very rare negative vote on pay this proxy season (Motorola and Key Corp were two other examples), shareholders, in their advisory vote, did not approve the executive compensation philosophy, objectives and policies of Occidental. Further, all five members of the compensation committee, including chair Spencer Abraham and members John Chalsty, Avedick Paladian, Rodolfo Segovia, and Rosemary Tomich received 39% "no" votes (as a percentage of the yes and no votes) on their re-election.
Spencer Abraham is now meeting with investors in follow up to the vote, Kline says. "In the next two months, we expect to make changes that are responsive to investor sentiments as expressed in the vote", he said.
3) For the entire year, the board only held one executive session.
According to its 2010 proxy, the Occidental board only held "one executive session at which no members of management were present". Good practice boards regularly hold an executive session with no management at every meeting of the board. Directors generally agree that it is one of the most valuable means to establish the independence of the board and improve its oversight.
4) The board has lots of committees.
The Occidental board has "eight standing committees" according to its latest proxy. Even with the typical three or four board committees, many directors recognize the difficulties of effective coordination between their various activities -- and the importance of coordination for effective decision making between the audit and compensation committees, for example. Eight committees is extreme and makes knowledge sharing and coordination that much more difficult. Further, it can potentially create a very real negative situation in which members are focused on specific areas without sufficient scope or knowledge of the big picture.
5) Not only is CEO pay high, director pay is high also.
Several board members at Occidental earned over half a million dollars last year for their board service and all (other than a member who was only there for half the year) earned over $400,000. That's for six meetings of the board plus the committee meetings and the other work of the board. That other work includes direct shareholder dialogue.
Kline says that last year, Occidental's lead director, Aziz Syriani, held a number of meetings with shareholders - over the course of the year meeting (at least once) with shareholders representing 20% of Occidental's outstanding shares. This is indeed a positive action for shareholder relations.
For investors, however, high director pay can raise questions about whether the board is truly independent and whether, with those levels of pay, directors would speak up -- and walk away if need be -- if they had serious disagreements with management.
6) Some directors have been on the board over 25 years.
An astonishing seven of the 11 non-executive Occidental board members have very long tenures in the double digits at 12, 14 (2), 16 (2), 27 and 30 years, according to the latest proxy. The issue with long tenures is that the members can become less effective and less independent in their oversight when they've served for that long. Further, according to studies, long tenure directors are often associated with outsized executive pay.
For this reason, the new UK corporate governance code, which went into effect in June, states, "any term beyond six years for a non-executive director should be subject to particularly rigorous review, and should take into account the need for progressive refreshing of the board."
Anne Sheehan, Director of Corporate Governance at CalSTRS and co-signer of the letter to Occidental cites the long tenures as a concern: If directors are on the board a long time, are they really independent and representing all shareholders?
7) The CEO has done well for the company but he's past board retirement age with no real end in sight.
Whether a CEO is doing well or not, investors are worriers. They want to keep a good thing going -- and that won't happen if the company is too dependent on one person. The solution: they want to see meaningful succession plans. (Succession plans are also a key indicator investors use to determine if the board is awake and doing its job.) Investor anxiety is intensified when you throw in the fact that the CEO, in the case of Occidental, is 75 years old.
Sheehan said that, as long term holders, they recognize that both the company and the stock have done well. They want to be sure the successor will do well and that there is a plan for how the company will continue on.
At the 2010 annual meeting, Stephen Chazen, President and CFO, was elected to the board in a succession signal. On August 2, after the July 30 letter from CalPERS and Relational Investors was sent, the company promoted Chazen to COO and appointed a new CFO for the company. This, Kline said, was part of the succession planning process the board has been deeply engaged in for some time.
But the proxy doesn't indicate a real releasing of the reins anytime soon: "the Compensation Committee concluded that [Occidental's CEO] Dr. Irani has added, and will continue to add, sustainable, significant value to Occidental and its stockholders."
And "with respect to the Chairman and Chief Executive Officer, the Board also discusses this issue both with the Chairman and Chief Executive Officer, and separately in executive session with no members of management present." Given the fact that the board only met once last year in executive session without management present, the board's independent discussions of succession planning were limited to just one meeting. That's not very robust.
8) The board breaks its own rules.
This can take a number of forms and raises alarm bells every time. At Enron, it was in the form of making exceptions related to control procedures. At Occidental, it relates to the retirement age of 75 for board members. As of the time of the proxy, three board members were past the 75 milestone (including the CEO and one director who was 79) -- and another four were over 70 (including one who was 74 and will be reaching retirement age during this term).
9) The company misses street expectations, in part attributable to a new risky acquisition.
On July 27, 2010, the first question from analysts at the quarterly earnings conference call came from Doug Leggate, of BofA Merrill Lynch, related to why street expectations had been missed, attributing the miss to Phibro, the trading operation run by highly paid Andrew Hall that Occidental had purchased from Citigroup in October. According to a Reuters report at the time of the Phibro acquisition, then Occidental CFO and President Stephen Chazen said that Phibro wouldn't be a material source of earnings fluctuation, noting it had been profitable every year back to 1997.
On the July 27 call with analysts, he had to eat those words in describing Phibro's $104 million dollar pre-tax loss for the quarter: "We have reduced the amount of their exposure and reduced the bar if you will in hopes of reducing the volatility" and referring to Hall saying "you can't say that his trading results in the quarter were anything but lousy" and later in response to another question "the stocks didn't track the oil prices too well . . . some kind of accident somewhere". (Sheehan says this issue is not part of CalSTR's concerns.)
Although Occidental remains highly profitable, it's worth noting that Enron was another energy company that ran into trouble when its President, Jeffrey Skilling, pushed the firm into volatile trading businesses.
10) Shareholders can't make dialogue work. They've been talking to you for a year and say they don't seem to be getting anywhere.
On July 30, the Board of Directors received aletter from CalSTRS and Relational Investors. The letter, in part, read: "we have been engaged in a dialogue with various company officials for over a year to discuss our concerns about the board's performance . . . after a year of interaction with the company without a meaningful response we are convinced that a major change in the company's board composition is required to ensure proper stewardship and representation of shareholders' interests."
CEO pay, retirement age violations, and the lack of succession planning were cited in the letter, noting that, "Throughout Dr. Ray Irani's tenure as CEO his pay has vastly exceeded CEO pay at even the largest companies in the oil & gas industry. This trend has accelerated over the last several years. His target awards are now nearly twice those of the CEO at Exxon Mobil (XOM, Fortune 500), the largest company in the world, and over three times that of Occidental's peer group average. Worse yet, actual payouts have materially exceeded targeted amounts and this pattern is expected to continue in 2010. "
Commenting on Occidental's shareholder relations, Pedrotty said Occidental does a good job of outreach to shareholders but a poor job on executing change related to what has been discussed. "This is a deeply flawed board of directors" he stated. He expects they will continue to be a target for activists until the issues are resolved.
Occidental has good things going for it. It has a good track record of performance and a willingness to talk to investors. But those pluses are not enough to preempt investor concerns. Boards have to not just talk, they also have to act or face a battle with shareholders. For that reason, it's not accidental that Occidental has a battle it is hoping to resolve soon.
-- Eleanor Bloxham is CEO of The Value Alliance and Corporate Governance Alliance, a board advisory firm.