What's costlier than a government run prison? A private one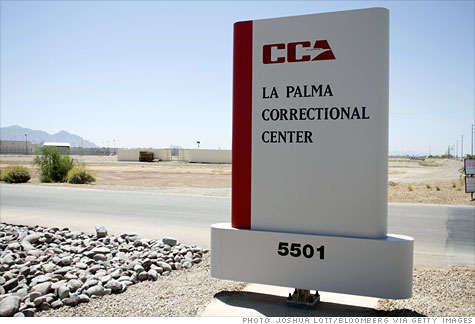 FORTUNE -- Early this month, three convicted murderers escaped from a prison in Kingman, a small town along Route 66 in northwest Arizona. According to reports, the inmates had broken free from the facility by using a pair of wire cutters. They'd escaped from a medium-security facility operated by Utah-based Management & Training Corp, a private corrections company.
The incident set off a political furor, not over the fact that the three violent criminals were being held in a medium-security prison, but over the security of the facility itself, and, ultimately, over Arizona's widespread use of private correctional facilities.
Arizona's attorney general, Terry Goddard, a Democrat running for governor against incumbent Republican Janice Brewer, took the opportunity to indict the state's infatuation with privatization.
"I believe a big part of our problem is that the very violent inmates, like the three that escaped, ended up getting reclassified [as a lower risk] quickly and sent to private prisons that were just not up to the job," Goddard told a local TV news station.
In recent years, the trend toward privatization, both among state governments and at the federal level has been part of an attempt to address serious budget troubles and crisis-level prison overcrowding by outsourcing more and more corrections operations to private companies.
The move has translated into big business for industry leaders like Corrections Corporation of America (CXW), The Geo Group (GEO) and Cornell Companies, Inc. (CRN) (just last week, The Geo Group and Cornell finalized a merger valued at $730 million).
According to research firm IBISWorld USA, private corrections is a $22.7 billion industry with an annual growth rate in the last half-decade of 4.7%. While growth slowed from 2009 to 2010, projections for the industry remain largely optimistic.
"The prison population continues to grow regardless of what the economic conditions are," says George Van Horn, senior analyst at IBISWorld.
According to the Bureau of Justice Statistics, the number of federal inmates housed in private facilities jumped nearly 14% between 2000 and 2007, and nearly 6% between 2007 and 2008.
Even so, the federal government nor any other state has gone as far as Arizona has in the march toward prison privatization. Last fall, Governor Brewer signed a law calling for the privatization of all the state's prisons, should a private contractor offer an upfront bid of $100 million. This March, the law was repealed because no private company made a bid.
A prison too far?
But with the recent escapes, officials in Arizona and elsewhere have started to question the use of private correctional facilities. When Arizona's privatization bill passed, the state's director of corrections, Charles L. Ryan, took the unusual step of writing a letter to Governor Brewer expressing concern.
"[The bill] seeks to attempt something never experienced in the nation: Privatizing a state's entire prison system. This is bad public policy," the letter read.
"This escape has put everything in stark relief," says Goddard. "A private company has an acceptable level of loss. In the case of violent offenders, I don't believe the public does or should tolerate any incidence of failure."
At the heart of the widespread use of private correctional facilities in the U.S. is the industry's promise of much lower costs to governments than public facilities are able to provide.
"States have had challenging situations where they have to look at operating costs. We provide savings of anywhere between 5 to 15% or more [versus a public correctional facility]," says Damon Hininger, chairman and CEO of Corrections Corporation of America (CCA), the industry's leader.
Private facilities can offer these savings, in part because they don't have to contend with the hefty employee pension and wage obligations that government agencies do.
"Private corrections companies can pay a lower wage or pay fewer benefits, particularly no pensions," says John Roman, senior researcher at The Urban Institute.
Arizona has proven to be a particularly sympathetic ground for private prisons, and a less than friendly place for public employees, as it grapples with significant budget woes.
"Public employees, unfortunately, are pricing themselves out of the market with outrageous benefits," says John Kavanagh, a Republican state representative in Arizona who favors prison privatization. It was also recently revealed that two of the Arizona governor's advisers have close lobbying ties to CCA.
Private companies like CCA also generally promise to build prisons in 18 to 24 months roughly half the time it takes to build a public prison, another appealing quality to governments dealing with swelling prison populations.
Private contractors can also cut costs by building facilities for one state's prisoners in another, less expensive state. CCA operates the Saguaro Correctional Center in Eloy, Ariz., which exclusively houses inmates from Hawaii, because construction and labor costs are much cheaper in Arizona than Hawaii.
Law enforcement locked out of prison?
Arizona Attorney General Goddard says that his state Department of Corrections has nearly zero oversight over the prisons that house out-of-state inmates in his state.
"They don't have to show proof of financial responsibility, they don't have to comply with Arizona prison construction standards, they don't have to report disruptions. . .and both the training and staffing is up to the private operator," Goddard says. "There were a couple of private prisons that went on lockdown and refused to allow the Department of Corrections to come in."
Despite claims from companies like CCA, the jury seems to be out on whether private prisons end up saving governments money. An audit by the accounting firm MAXIMUS conducted for Arizona compared the cost of public and private corrections facilities in 2007 and found that, on average, private facilities ended up saving the state $5.49 per inmate per day.
But more recently, an internal Arizona Department of Corrections report released in February 2010, found that, in 2009, those savings narrowed to around $2.75 per inmate per day, and in certain instances, private facilities were found to cost even more per day than public ones.
"There's nothing definitive saying publics are better or privates are better. There's a lot of propaganda," says Michel Jacobson, director of the Vera Institute of Justice, a non-partisan research organization.
The Urban Institute's John Roman argues that at times private prisons also lack the incentive to help prepare inmates to return to society, leading to a higher rate of recidivism (inmates returning to prison) and a higher overall cost to the prison system.
Whether the prison provides rehabilitation services depends on the company's government contract, which is largely dictated by politics.
"We will offer whatever the public customer wants us to offer," says Hyman of Cornell Companies Inc., the third largest private corrections company in the country, which on Thursday finalized a merger with the second largest, the GEO Group.
But even Hininger, CCA's CEO, admits that many states are asking for a reduction in prisoner rehabilitation services. "That does have a negative impact on potential recidivism," says Hininger.
The private corrections industry has managed to weather the economic storm better than many other industries, and it's gearing up for what it sees as a lucrative future. The unavoidable reality is that the U.S. prison population continues to grow, leading more governments to look at creative ways to solve both its economic and prison system's challenges.
While most states may not have gone as far as Arizona, governments are starting to look more favorably at outsourcing their prisons. And CEOs like Hyman sound a little like hoteliers during the economic boom: "I cannot think of an industry that has such strong medium-to-long term growth potential behind it, driven by a need for beds."