Caution: Dogs behind wheel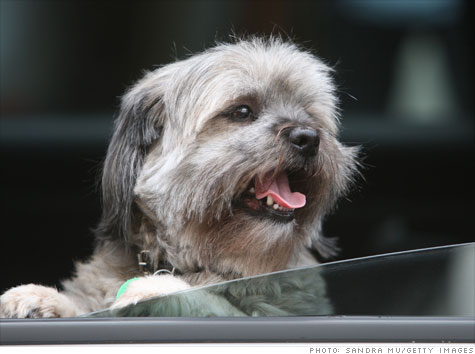 NEW YORK (CNNMoney.com) -- That darling little pooch riding with you to the grocery store may be cute, but it could actually be a killer.
Dogs in the car can be a hazard to drivers, others on the road and even to the dogs themselves.
One third of dog owners admit that their pets sometimes distract them while they're driving, according to a AAA Foundation for Traffic Safety survey of people who say they have driven with their dog in their car within the past year.
More than half admit to petting the dog while driving. And 21% say they allowed their dog to ride in their lap. A few said they've done things like playing with their dogs or giving their their dogs water, all while driving.
At the same time, fewer than one in five people who have driven with a dog say they use any kind pet restraint.
That can be dangerous for the dog, but also for vehicle occupants and others.
"An unrestrained 10-pound dog in a crash at 50 mph will exert roughly 500 pounds of pressure, while an unrestrained 80-pound dog in a crash at only 30 mph will exert 2,400 pounds of pressure," Jennifer Huebner, AAA National, Traffic Safety Programs manager said in an announcement. "Imagine the devastation that can cause to your pet and anyone in the vehicle."
Front seats are particularly deadly for dogs, restrained or not, the AAA Foundation for Traffic Safety said. Airbags, which inflate explosively during a crash, can be even more dangerous to a dog than the actual impact itself.
Most dog owners said their pets ride in the back which, according to AAA, is where they should ride. Only 26% say they allow their dog to ride in a front seat.