Why J&J's headache won't go away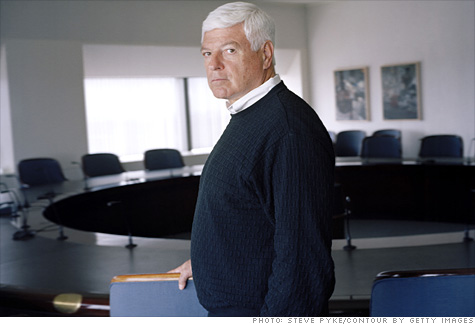 FORTUNE -- It was a humiliating moment. Congressman Edolphus Towns was upbraiding a top Johnson & Johnson executive. Certainly Towns (D-N.Y.), the chairman of the House Committee on Oversight and Government Reform, has browbeaten his share of CEOs and Wall Street titans. But it's not the sort of thing that usually happens to J&J. At this hearing in May, though, Towns laid into the health care giant. "The information I've seen during the course of our investigation raises questions about the integrity of the company," he boomed. "It paints a picture of a company that is deceptive, dishonest, and has risked the health of many of our children."
That's a damning indictment for any business, but an especially shocking one for Johnson & Johnson (JNJ, Fortune 500), one of America's most iconic and trusted brands -- the one whose products you give your children. For more than a century J&J has built a sterling reputation as the maker of such products as Band-Aids, Baby Shampoo, and Tylenol. It considers its business a mission -- at least according to its credo, which pledges responsibility first "to the doctors, nurses, and patients, to mothers and fathers and all others who use our products and services."
But serious questions have been raised about the quality of numerous J&J products. Since September 2009, McNeil Consumer Healthcare, the J&J division that makes over-the-counter (OTC) drugs, has announced eight recalls, including one for an estimated 136 million bottles of children's Tylenol, Motrin, Benadryl, and Zyrtec -- the biggest children's drug recall of all time -- that were potentially contaminated with dark particles. J&J has been excoriated by the Food and Drug Administration for failing to catch McNeil's quality problems. In April the agency slapped McNeil's plant in Fort Washington, Pa., with a scalding inspection report, causing the company to shutter the factory until 2011.
Perhaps most disturbing, in 2009 contractors hired by J&J carried out a scheme to secretly recall damaged Motrin by going store by store and quietly buying every packet, according to the FDA. That raised the prospect that J&J not only was making shoddy products -- but was trying to keep the trouble out of public view.
At the May hearing J&J was represented by Colleen Goggins, the chief of its $16 billion consumer products group, which includes McNeil. Sitting alone at the witness table, the 55-year-old executive looked almost vulnerable. But she never flinched. Goggins apologized to "the mothers, the fathers, and the caregivers for the concern and inconvenience caused by the recall." She then spent most of her sworn testimony downplaying the situation. "Unfortunately there has been some confusion in the media with respect to this recall," she went on, stressing that the recalled drugs have not been shown to cause illness.
Goggins's approach -- one part apology and promise to do better to three parts disclaimer and evasion -- embodies J&J's recipe for addressing the crisis. The company has been less than forthcoming about the Motrin recall, which it still defends, and was rebuked by Towns for failing to respond quickly to requests for information. "At every step in this process J&J has not been transparent," says Don Riker, a consultant to OTC drug companies. "Every bit of information is cagey, secretive, and micromanaged."
This stands in stark contrast to J&J and McNeil's handling of the 1982 Tylenol catastrophe, the gold standard for crisis management. After seven people died from ingesting Extra-Strength Tylenol laced with cyanide (the perpetrator was never caught), the company immediately pulled the medicine and devised tamper-free packaging. J&J's CEO at the time, James Burke, made multiple television appearances reassuring the public that the situation was under control. Though the recall cost J&J an estimated $100 million, its business bounced back, and its reputation was saved.
By contrast, J&J's current CEO, Bill Weldon, has been largely invisible (among the few exceptions: a video interview on Fortune.com in May). Weldon was invited to testify at the congressional hearing, but he sent Goggins, citing impending back surgery. Online message boards berated the CEO for his absence. One thread asked, mockingly, "Where's Weldo?"
As this article was going to press in mid-August, Weldon agreed to an interview (while declining to discuss what caused McNeil's problems). "This is one of the most difficult situations I've ever had to personally deal with," Weldon says. "It hits at the core of who J&J is ... Our first responsibility is to the people who use our products. We've let them down." He emphasized that "even though the health risks were remote, these things should never have happened." J&J, he says, is undergoing a comprehensive overhaul: buying new equipment, replacing leadership, and reorganizing the quality-control department. Finally, he rejects the comparison between the events of 1982 and today's recalls, in part because people died in the original Tylenol case: "Given the conditions that we're working with today, I think we've responded in probably the most responsible way any company could've responded." (McNeil, presented with an extensive list of questions, also declined to respond in detail. "Quality remains our #1 focus," the company wrote in an e-mail.)
It remains to be seen if J&J can deliver on Weldon's promises. What's clear is that the problems developed over a long period, and as Weldon himself notes, they raise questions that go to the core of J&J's identity. Interviews with more than 30 former J&J and McNeil employees, most of whom requested anonymity because they still work in the pharmaceutical industry, shed light on changes that have transpired there over the past decade. Their accounts depict a division, McNeil, that has undergone a wrenching cultural change, and a quality-assurance department that crumbled as its mistakes were overlooked -- at times, some former employees say, deliberately.
They also reveal that even as J&J touts its decentralized structure (it owns some 250 subsidiaries), the problems were actually exacerbated by Goggins's efforts to pull McNeil closer to the parent corporation's orbit. In particular, J&J's purchase of Pfizer's consumer health care unit and the resulting decision to shift McNeil from J&J's heavily regulated pharmaceutical division to its marketing-oriented consumer products division would have disastrous effects. One former McNeil director puts it simply: "Over 10 years it became a completely different company."
Living up to 1982's legacy proves difficult
There are many who believe that the 1982 Tylenol episode, for all its trauma, was the best thing that ever happened to McNeil. After receiving accolades for handling the crisis, former McNeil employees say, they were imbued with a special sense of pride and purpose; many cited the Harvard Business Review case study that dissected the episode.
McNeil's quality-control department took a zero-tolerance approach. If there was a question about a batch of drugs, the answer was easy: Dump it. "It became a part of the culture," says a former McNeil director who joined in the mid-'90s. "They thought, 'We do things right; we do things well.'" Says a quality control manager from that era: "I don't think I've ever worked in a place where everybody was so tough on themselves."
Even outside the quality group there was an attitude of moral superiority at McNeil, which sometimes came across as a little priggish, says the former director. Workers were polite and rarely cursed. Employees say managers treated them like family, even giving them turkeys on Thanksgiving. Under J&J's model, in which all 250 companies are said to function autonomously, the company was its own little fiefdom. The heads of each division -- manufacturing, quality control, marketing, etc. -- reported to McNeil's president, who was essentially the CEO of a corporation. "J&J is a huge company, but you didn't feel like you were in a big company," recalls a scientist who used to work there. "It was more McNeil-focused."
Despite its standards, McNeil stumbled from time to time. The FDA issued a warning letter in 1996 that criticized McNeil's manufacturing and testing processes. Around that time Ralph Larsen, the CEO after Burke, began overhauling quality control at Johnson & Johnson. "His basic drumbeat was ... first and foremost, we're going to conduct business the right way," recalls a former McNeil VP. "And if we can't succeed, we'll exit." Larsen created a corporate compliance team to audit the operating companies. McNeil employees were tasked with implementing the President's Corrective Action Plan, a multiyear, multimillion-dollar program focused on fixing the quality systems.
With that program in place, McNeil's quality-control department thrived for a few years. Then, not long after Larsen retired in 2002, it began to slowly weaken. The culprit was a familiar one -- cost cutting -- but in a subtler form. There were no wholesale layoffs in quality control. Instead experienced staffers were repeatedly laid off and replaced with newbies who mostly lacked technical pharmaceutical experience. By 2008 the analytical laboratory, formerly staffed almost entirely by full-time scientists, was half-full of contract workers, according to a former manager there.
Once stricter than a schoolmarm, the department grew lax. The team that tested the production lines was dubbed the "EZ Pass system," according to a former quality-control employee. In one instance an engineering flaw on a line made it difficult to clean liquid-medicine bottles. Rather than find a way to fix the problem, an engineer says, the team instead tried to simply eliminate that check from the test. "They were trying to take a lot of short cuts," she says.
Eventually the FDA noticed. In 2004 it issued McNeil a long "483," a critical report card produced after an inspection. This one cited multiple infractions, such as incomplete investigations, bad sampling practices, and poor record keeping.
That year the company hired a new head of quality, Bob Miller, an ex-Pfizer staffer described as sharp and ambitious by former co-workers. Miller in turn hired some of his old colleagues. The tight-knit crew, who took their meals together and lived part-time in a house near the factory, according to former employees, had the collective know-how to fix the plant.
But that's not what happened. One day in 2005 a batch of more than 1 million bottles of St. Joseph aspirin failed a quality test because a sample didn't dissolve properly, according to two employees involved in the testing process. Following company procedures, the employees blocked the batch from being shipped. Their manager then called the two into his office. "He said, 'You like working here?'" one of the workers recalls. "'This should pass. There's no reason this should fail.'" Ultimately the two quality workers were ordered to retest the drugs, then average the new scores to arrive at a passing grade so that the pills could ship. Says one of them: "You get to the point where, like me, you end up doing what you're told."
The manager they fingered denies knowledge of the incident. Tellingly, though, he acknowledges that there were ethical issues in the department and in turn blames another supervisor. Still others say department chief Bob Miller, who left on June 30, bears the ultimate responsibility. (Writes Miller's lawyer, Ronald Levine, in an e-mail: "Bob Miller worked long and hard for McNeil, with a demonstrated commitment to maintaining and improving its quality processes, and he never violated that trust.")
Whichever individuals were at fault, quality oversight declined. An Aug. 21, 2007, internal memo, obtained by Fortune, presented a harsh assessment. It cited "the high percentage of operator errors in every work center" and found that the quality team put "very little effort" into analyzing its own processes. It didn't act properly on test data, and it used "very little" rationale to justify when and how it sampled for flaws. To anyone who saw the report -- which was routed at least as high as Miller, according to an employee who worked on the memo -- it was obvious that serious problems were brewing. But McNeil's executives were focused on other matters.
A merger and lay-offs give way to lax oversight
At the end of 2006, J&J, on the hunt for growth amid slowing sales and profits, completed the $16.6 billion acquisition of Pfizer's (PFE, Fortune 500) consumer health care division, which makes Listerine, Sudafed, and Benadryl. One of the biggest prizes of the deal was the chance to launch Zyrtec, previously a prescription allergy drug, over the counter. The other opportunity: $500 million to $600 million in annual savings that could be reaped by merging the Pfizer group with McNeil.
The merger dramatically altered McNeil's position. It had previously been part of the pharma unit, but after the deal it was folded, along with the Pfizer group, into J&J's consumer sector, headed by Colleen Goggins. According to former executives, the difference between divisions was both cultural and financial. "The people who ran pharma understood the requirements associated with [regulatory] compliance and the investments required to keep that up," says a former executive. Consumer relied more on marketing, or "smoke and mirrors," as an ex-McNeil director scoffs. Perhaps the most striking difference was in profit margins. Companies in the consumer group typically had margins around 10%; McNeil generated more than twice that.
Once the merger occurred, Goggins quickly moved to centralize functions across the different companies, including McNeil. As a result the heads of divisions like quality, R&D, and purchasing at McNeil now reported to chiefs in J&J consumer. "You had all of these crazy matrices that came together at one place: her level," says a former employee. "She wanted granular control over decision-making." Goggins is described by former executives as a micromanager, one who can let that distract her from weightier matters. For example, the chairman of the $16 billion unit routinely combs through J&J advertising inserts in weekend newspapers and then flays the guilty party if she deems the craftsmanship subpar. ("Colleen Goggins has been a consummate leader at Johnson & Johnson for 25 years," a J&J spokesperson writes in an email, "and has always held consumer health and well-being as a top priority.")
McNeil staffers were furious at their loss of independence. It wasn't simply a matter of pride: Their new consumer bosses were now in charge of reducing McNeil's spending so that the company could meet the merger targets. Goggins looked to squeeze every cost, former employees say, and her team leaned heavily on McNeil, with its juicy margins, to absorb the cutbacks. "I was given savings goals that were mind-boggling, unheard-of," says one former executive. "They were raised by 25% to 30%." Another executive estimates that McNeil's margins have risen five to six percentage points since the merger. (McNeil asserts that it raised spending on quality control from 2006 to 2009.)
Because the consumer executives lacked pharmaceutical experience, former McNeil employees say, they demanded ill-advised operational reductions. One VP remembers arguing with one of Goggins's chiefs about how much it would cost to transfer Pfizer production lines to McNeil's Fort Washington plant, an arduous process that is heavily regulated. "The normal cost to do a transfer for a product like that might be $600,000 per product," he says. "Those folks would say, 'That's way too expensive. It's only going to cost $250,000.'" McNeil employees knew it would be nearly impossible to meet those demands, he says, without screwing the process up. But they did it anyway for fear of being fired.
That same year, 2007, J&J announced it was laying off more than 4,000 people across the company. One of the casualties, according to former employees: the corporate compliance group, the SWAT team meant to keep the quality-control groups in line. According to tax records filed with Whitemarsh Township, where Fort Washington is located, McNeil's workforce in the township was slashed by about 32% between 2005 and 2009. The biggest cuts, employees say, occurred on the factory floor. As the production staff shrank and equipment budgets were slashed, more and more mistakes began to pop up. Gaskets blew, metal punches broke, processes failed. "Those guys were getting worked a lot. They were always understaffed, always behind schedule," says a former quality employee. "They had about 10 things to do, and two people to do it."
"The whole dynamic was very stressful," she adds. "It wasn't Do your job the right way, it was Do your job fast. Make it look good, and get it done as fast as possible."
The fallout
Though the relationship between the FDA and a drug company is always fraught -- "They're the enemy," says one pharmaceutical executive -- it is usually predictable. Inspectors visit OTC factories every two to three years without warning. After about a week they draft an inspection report, and if they find serious problems, they issue a 483. The company, in theory, then fixes the problems.
In February 2008 the FDA inspected the Fort Washington operation and issued a short 483, faulting McNeil for conducting lackluster investigations. The FDA decided to return about a year earlier than scheduled. This time, in June 2009, it found six mistakes, again involving mishandling of complaints and investigations. That fall the FDA visited McNeil's factory in Las Piedras, Puerto Rico, where it makes Extra Strength Tylenol. The inspection lasted more than two months, during which McNeil began issuing recalls of Tylenol Arthritis that had a musty odor. The FDA blasted the company for failing to catch the problem in 2008, when it received dozens of complaints from consumers, some of whom said the smelly drugs had nauseated them. McNeil's defense is that it was a complicated case; the company didn't figure out until 2009 that the odor came from chemically treated wooden pallets.
The FDA says it made an even more alarming discovery in July 2009: Contractors hired by McNeil had conducted an undercover recall that summer. In late 2008 the company realized that it had released packets of Motrin that failed quality tests. Rather than issuing a public notice, McNeil hired the contractors, who visited convenience stores and purchased every Motrin they could find. J&J says the FDA "was informed that McNeil would be retrieving product." But a memo written by one of the contractors (and released by Towns' committee) seems unambiguous: "You should simply 'act' like a regular customer while making these purchases. THERE MUST BE NO MENTION OF THIS BEING A RECALL OF THE PRODUCT!" (Emphasis in the original.)
By 2010 it had become increasingly clear to regulators that McNeil was experiencing a systemic breakdown in quality control. The FDA called a meeting with executives from both McNeil and J&J in February. According to minutes obtained by Fortune, the agency chided the company for a "lack of timeliness" in informing it of what was going on and threatened to take action if it found problems at other sites. Two months later inspectors returned to Fort Washington and issued yet another 483. While such reports are typically dry affairs, this one made for unusually discomfiting reading. It described "thick dust" in the factory and a "large exposed hole (gap) in the ceiling." It slammed McNeil for failing to ensure its materials weren't contaminated with bacteria or overloaded with too much active ingredient, as well as for not initiating corrective actions when it received complaints about black particles in drugs.
Goggins promised at the hearing in May that J&J was doing everything it could. But the situation only seemed to worsen. In July the FDA delivered yet another 483, this time directed toward McNeil's Lancaster, Pa., plant. That same week J&J announced that the Fort Washington factory won't reopen until 2011 and that 300 workers will lose their jobs. J&J recently reported that sales will be reduced $600 million this year because of the recalls; that it is the subject of inquiries from multiple state attorneys general; and that it has been subpoenaed by a federal grand jury in Pennsylvania. J&J has stated that it is cooperating, but the existence of a criminal investigation isn't likely to reassure its customers.
Now more than ever, J&J needs a strong hand. But Bill Weldon remains publicly absent. Several high-ranking executives who have left J&J say he was never very involved in its consumer sector. Unlike his predecessor, Weldon never worked for McNeil, and former employees say that in the past, he publicly admitted that he didn't understand the consumer division. (A company spokesperson says Weldon has "a lot of confidence" in McNeil.) This blithe attitude toward a $16 billion business -- about 25% of J&J's revenues -- seems tacitly encouraged by Wall Street analysts, who rarely ask Weldon about the consumer unit during earnings calls and treat it as an afterthought.
Yet Weldon's legacy could depend on McNeil's fate. Tylenol is one of J&J's billion-dollar brands. It may not be a fast grower, but it's a cash cow that has withstood competition from generic rivals for years, commanding a premium price. In fact, so dominant were McNeil's recalled liquid children's drugs -- some 70% of the market -- that even today parents struggle to find replacements on empty store shelves. They are having to look elsewhere, and J&J's rivals have sprinted to grab market share. "What they're bottling is trust," says a former McNeil engineer. "Why would anyone spend extra on Tylenol now?" It's a question that could someday make a great case study. Only this time it's one that J&Jers won't remember so proudly.