The teacher who spends $1,000 on her kids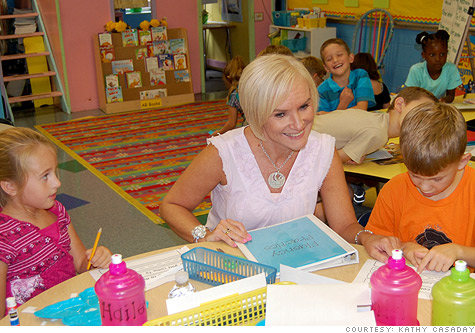 NEW YORK (CNNMoney.com) -- Vicky Halm spends a $1,000 a year out of her own pocket to equip her Brooklyn classroom. She buys star stickers to help motivate her students, but she also spends a great deal on basic supplies -- such as pencils and paper -- that the parents in her area cannot afford.
In years past she would get some of that reimbursed from the Teacher's Choice fund. But this year, the New York City Council hacked the pot back to just $9.2 million, down almost 30% from last year's allocation. That breaks down to just $110 per teacher -- or roughly $4 per student per year.
"Even before the cut, the amount was a joke," said Halm, who has been a special education teacher for nearly three decades. "But knowing me, I'll spend more of my own money. But it's getting tough, and I may have to cut back because we haven't gotten a raise in a few years, and things are tight."
Halm is not alone. A whopping 97% of teachers frequently dip into their own pockets to purchase necessary classroom supplies, according to a national survey conducted by Kelton Research.
Last year, teachers spent more than $350 on average from their own income on school supplies and instructional materials, according to the National School Supply and Equipment Association, and experts say that number could jump as teachers embark on the new school year with fewer funds to spend.
Shriveled budgets have pushed government officials to make cuts so deep that the remaining teachers are digging deeper into their own pockets with hopes that their students won't feel the pinch.
"The downfall of the economy has meant severe reductions in education across the board, including resources devoted to classroom activities," said Al Campos of the National Education Association. "They're not required to, but teachers will pay out of their own pockets to make sure their students have the supplies they need to receive a quality education."
The fact that New York City teachers are getting even $110 is shocking to some, considering that the Teacher's Choice fund was slated for elimination all together.
"In once sense, I'm proud to say we were able keep $9.2 million despite this being a terrible economic year the city," said council member Daniel Dromm, who was an elementary school teacher in Queens for 18 years before being elected to council last year. "But as a former teacher, I empathize with them. The council knows the amount is not even close to how much teachers need, but we want to show that we appreciate everything they layout."
Parents are also strapped for cash, so asking them to buy extra supplies isn't an option either, said Ruby Sheets, a third grade teacher at a dual language school in Brooklyn.
"In areas that are more affluent, teachers can get away with asking parents to pay for school trips, or supply paper and tissues for the classroom," said Sheets, who has been a teacher for 10 years. "In our neighborhood and in this economy, the situation is more difficult, and we can't ask our students to supplement what we can't provide."
Sheets spends about $1,000 each year to ensure there are enough resources for her students, but also applies for grants at online charity DonorsChoose.org, which allows individual donors to funnel money directly into classroom supplies.
Teachers are also having to decide whether they can pay for textbooks and field trips because a majority of schools across the country are not buying news books right now and are eliminating field trips, according to a study by the American Association of School Administrators, which surveyed more 450 school administrators across 45 states.
"This recession has had disastrous effects and is limiting our ability to adequately ready our children for the future," Campos said. "Teachers will continue to pay out of their pockets to provide their students with a quality education, but it will become more challenging as budgets continue to dwindle and salaries and benefits are cut."
In Alabama, school districts are trying to cut costs elsewhere to help teachers through the crisis. In this state, teachers will go a second straight year without a stipend for classroom supplies, which last stood at $400 per teacher.
"We cut everyone's budget at the central office building by half and said the teachers need this help," said Nez Calhoun, spokeswoman for Alabama's Jefferson County school district.
Still, overall supply budgets at those schools remain tight, and teachers continue to spend their own money.
"Students are distracted by televisions, gaming systems and computers at home, so as their teachers, we're competing for their attention and have to find creative ways to make them enthusiastic about coming to school and learning," said Kathy Casaday, a first grade teacher at the county's Gardendale Elementary who spends about $400 on her classroom.
Gardendale Elementary has delayed replacing student computers and purchasing multimedia projectors and interactive white boards for classrooms for two years, said principal Ellen Andrews, who also spends about $1,000 year from her own paycheck to help her school's teachers out with classroom supplies and materials.