Money etiquette for couples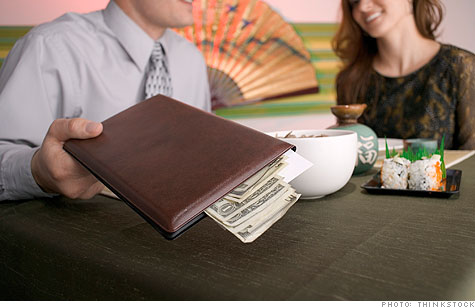 NEW YORK (CNNMoney) -- When it comes to money issues and your mate, logic and reason often get thrown out the window.
Whether it's the check at dinner, credit card debt, rent or who pays for what and how much, Manisha Thakor, co-author of the book "Get Financially Naked," has some advice on handling these matters of the heart and your wallet.
Who pays at dinner? It's always an uncomfortable situation when you're on a date and the check comes to the table. Who pays?
Thakor says a good rule of thumb is for the first three to five dates -- while you are still testing the waters -- the person who plans the date pays. However, if things are getting serious, a more economical approach might be to suggest splitting the check or alternating who pays.
"It's a way for both of you to have fun but still stay financially comfortable," Thakor says.
Debts in the closet. When it comes to debts -- like student loans or credit card debt -- talking about credit snafus can be awkward. But Thakor has some pretty bold advice: "When you're willing to take your clothes off in one way with each other, you should be willing to get financially naked as well," she says.
If you're going to start co-signing on financials together -- such as a car loan, a mortgage or a credit card -- make sure there is full and fair disclosure on your credit history.
To check your credit situation, go to annualcreditreport.com to get your free credit report from the credit reporting bureaus and check for any debts in collection or errors.
To co-sign or not to co-sign. With more than 6.7 million people living together before marriage, cohabitating on your finances as well might seem like the next step. But, Thakor says, think before you sign.
"Love may not last forever, but debt often can. Unless you're 100% willing and able to pay for the entire debt if you break up, don't co-sign on loans," Thakor advises.
In terms of joint bank accounts, until you are married or committed to living together for the long term, keep them separate until you're ready to take the plunge.
Lost your job? What now? If your partner is one of the 14.6 million people out of work, Thakor says couples should go on a spending diet. Talk about it and immediately cut back on unnecessary expenses.
Get creative with your dates -- find free things you can do as a couple that won't drain your bank account. Also, avoid loaning money.
"I say don't loan if you need to get it back or it can kill your relationship," Thakor says.
Make more, pay more? If your partner makes six figures and you're nowhere close to their pay grade, Thakor suggests dividing bills proportionally,
"The worst situation is when you try to keep things 50/50 because then resentments build up," she says.
For example, if one person makes $70,000 and the other makes $30,000, the person who makes $70,000 pays for 70% of the bill. If you feel that doesn't work for you, work with your partner on a solution that works for your bottom line.
Finally, while talking about these issues might be horribly awkward, Thakor says that working on these things together, and the way you talk about it with each other will tell you a lot about your financial path before you walk down the aisle.