Apple and Google prepare for mobile ad war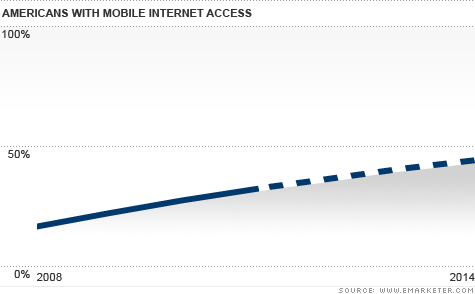 NEW YORK (CNNMoney.com) -- The mobile advertising business is puny. But don't tell that to Google and Apple.
Advertisers are on track to spend only $1 billion globally on mobile advertising this year, compared to $45 billion on all online ads, according to Sandeep Aggarwal, analyst at Caris & Co.
So it might surprise some people that Google and Apple are making a sizeable bet on mobile advertising. In January, Apple bought mobile advertising company Quattro Wireless for $275 million. In May, Google completed its purchase of Quattro rival AdMob for $750 million.
At Mobile World Congress in Barcelona in February, Google CEO Eric Schmidt announced that the company's new rule is "mobile first," aiming to ensure that every new Google product considers the mobile experience first and foremost.
Apple CEO Steve Jobs spent a decent chunk of his iPhone 4 presentation in June discussing the company's new ad platform, iAd.
But despite the hype from these two tech giants, mobile has yet to capture the attention of advertisers for a number of reasons.
Even the zippiest smartphones have slower browser and computing speeds than PCs, making some flashier ads difficult to load on a phone. Small screens also make many ads harder to notice. And people spend less time browsing on a phone than they do on a PC.
Still, there are signs that Google (GOOG, Fortune 500) and Apple (AAPL, Fortune 500) aren't completely nuts in their bets on mobile ads.
Mobile is the fastest growing part of the advertising market, according to Aggarwal. Since Google launched its Android mobile platform less than two years ago, the company's mobile Web searches have grown an astounding 500%.
EMarketer predicts that U.S. mobile ad spending will grow by more than 35% in each of the next three years, rising to $1.6 billion in 2013 from just $416 million last year. As a whole, the mobile ad market will quintuple to $5 billion in the next three years, Aggarwal predicted.
That coincides with predictions of an amazing jump in smartphone adoption: EMarketer forecasts that 41% of the U.S. population will be using Internet-connected mobile devices, up from just 22% last year.
Mike Steib, director of emerging platforms at Google, said that in the same way that people no longer make a distinction between broadcast television and cable television, advertisers will soon no longer make a distinction between Internet advertising and mobile advertising.
That's already starting to happen at some big media companies.
Mobile ad sales have more than doubled year-over-year for Walt Disney's (DIS, Fortune 500) ESPN, for example. ESPN wouldn't disclose the exact figure for mobile ad sales, however.
But the cable sports network's World Cup iPhone app was downloaded 2.5 million times, and more than 1 million fans watched ESPN's live World Cup coverage on their mobile devices.
"Mobile plays a central role in users' access to content when a TV and a computer screen are not available," said Lisa Valentino, ESPN's vice president of digital and mobile advertising sales. "Mobile offers unduplicated reach to our customers."
Taking advantage of the smartphone
Though not all companies are enjoying the mobile advertising success that ESPN has shown, analysts predict a boom in mobile ads will take place over the next several years, as mobile platforms and advertisers team up to create more innovations.
The key will be taking advantage of unique features that smartphones have over PCs: Mobile devices know where a user is located, are highly personalized and are the only screen that stays with its user all day. Those characteristics could lead advertisers to produce much more targeted -- and successful -- ads than on television or on a computer.
For instance, Google said many of its advertising partners have found that customers are far more likely to buy a product when speaking to someone on the phone as opposed to clicking on an ad.
As a result, last month, Google unveiled a feature on its mobile display ad network called Click to Call, which automatically places a call to a business when users click on certain ads.
Apple's new iAd platform also takes advantage of the iPhone's form factor, creating highly stylized and interactive ads in applications. IAd allows users to save coupons or bar codes for scanning at retailers, for example. Apple recently decided it would shut down Quattro Wireless in September, putting all of its eggs in the iAd basket.
But perhaps the most important factor in the predicted rise in mobile advertising is the fact that Apple and Google are backing it.
"Having both of those companies enter that business puts a stamp of validation on mobile as a good channel and a platform for advertising," said Noah Elkin, senior mobile analyst at eMarketer.
Google has the benefit of tying mobile into its existing ad formats, while Apple gives advertisers the ability to produce captivating ads on the most popular smartphone on the market.
It's a battle of mass versus class that has no clear winner yet, but the impact is already being felt in the tiny but burgeoning market.