Housing's new nightmare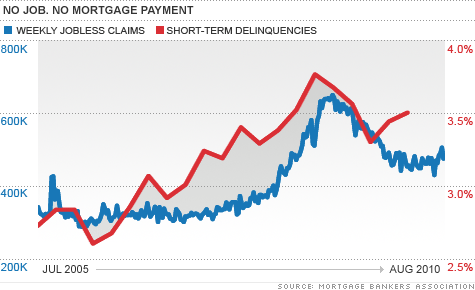 NEW YORK (CNNMoney.com) -- In another ominous sign for the economy, the number of people falling behind on their mortgages for the first time is on the rise.
This grim statistic is only the latest bad news for the reeling economy. Home sales are in free fall, initial jobless claims remain high and the gross domestic product slowed to a near halt in the second quarter, government reports issued this week showed.
The increase in short-term delinquencies is leaving some experts wondering whether a new round of foreclosures is on the horizon, even as the current wave begins to ebb.
Some 3.51% of borrowers were 30 days late in their loan payments in the second quarter, up from 3.31% at the end of last year, according to new data from the Mortgage Bankers Association. The shift is a stark reversal from the steady decline in short-term delinquencies during 2009.
The blame lies in the sputtering labor market, experts say. More people are losing their jobs, as evidenced in the steady rise in initial unemployment claims, and this is prompting them to default on their mortgages.
"You can't expect a recovery in the housing market in the absence of a recovery in the jobs market," said Jay Brinkmann, the association's chief economist. "It takes a paycheck to make a mortgage payment."
That recovery is not expected anytime soon. Economists are predicting the U.S. economy will shed 120,000 jobs in August, according to Briefing.com. Few are willing to bet that the private sector will ramp up hiring in coming months.
Short-term delinquencies, meanwhile, will likely continue rising, said Anthony Sanders, a real estate finance professor at George Mason University. And they will turn into a new wave of foreclosures unless the borrowers can land a job.
"This is all negative news for the housing market," he said.