The staggering pace of technology
FORTUNE -- I have more transistors than neurons. So do you. That's something worth caring about, because it signals the advance of a weird new world that most of us aren't prepared for. Yet we'd better get ready, for the world of the Syfy channel is looking startlingly plausible.
Remembering how proud I once was to own a transistor radio with five transistors, I wondered how many transistors I own today. (For those needing a refresher, a transistor is an electronic switch that's either on or off, a one or a zero in the digital world.) When I performed this exercise nine years ago, I was astonished to find that the total was 4 billion to 6 billion, counting every device in my office and in my family of four.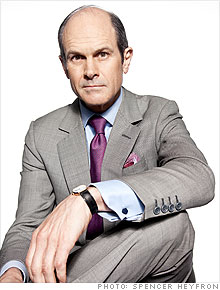 Well, things have changed. At this moment I'm using a year-old laptop computer with more than 37 billion transistors. My desktop machine in the office has about the same number. My iPod has more than 256 billion transistors. My BlackBerry has maybe a billion. My Kindle has over 16 billion. Then there's my family's car, washing machine, TV, DVD player, microwave, coffeemaker, dishwasher, refrigerator, modem, wireless router, printers, security system, thermostat; they all contain transistors, at least tens of millions in each device. Even leaving aside shared family devices, my personal transistor count is in the hundreds of billions.
For comparison, your brain and mine each contain about 100 billion neurons. By itself, that comparison doesn't mean much: A transistor has one connection leading in and out, while a neuron may have thousands or tens of thousands. But those devices are increasingly connected to one another via the Internet, which will soon be dominated by disparate devices increasingly working as one. Further, the transistors-to-neurons comparison helps us nongeeks grasp the simply staggering pervasiveness of technology.
Consider: The world produced about 10 quintillion transistors in 2009, which is 250 times more than all the grains of rice consumed last year, according to Applied Materials (AMAT, Fortune 500), which makes the machines that produce all those transistors. At Best Buy, a 16GB flash drive (128 billion transistors) costs $32.95; at the supermarket across the street, a five-pound bag of rice (150,000 grains) costs $4.85. For the price of a single grain of rice, a retail shopper can buy about 125,000 transistors.
The incredibly low and ever-falling price of transistors means they're everywhere, doing new kinds of jobs. They're in golf clubs (to analyze your swing), in golf balls (to help find lost ones), and in running shoes (to adjust cushioning at each stride). Mercedes-Benz engineers tell me that a new S550 uses 8 billion to 10 billion transistors. Floor it in a tight turn and the car may refuse to open the throttle fully. The accelerator isn't connected to the engine, but to a computer that wants to keep you from doing something stupid.
Mainstream experts are now seriously considering the implications of machines far smarter and more capable than ourselves. The Association for the Advancement of Artificial Intelligence convened a group of leading computer scientists last year to study "the implications of systems that emote, that express mood and emotion (e.g., that appear to care and nurture), when such feelings do not exist in reality." The U.S. Navy's study of "autonomous military robotics" considers, for example, the possibility that "we ... may not be able to halt some (potentially fatal) chain of events caused by ... systems that process information and can act at speeds incomprehensible to us." Think the May 6 flash crash, but the computers have machine guns.
We need to imagine this unimaginable future. An accessible way to follow developments is to keep an eye on Watson, the IBM computer system (named after company founder Thomas Watson) with the lofty goal of succeeding at a deeply human task: competing on Jeopardy. Bernard Meyerson, IBM's vice president for innovation, says the challenge isn't the amount of computing power but "writing the software that can understand the subtle cues of language." Watson is performing impressively and may compete against humans on the program this fall.
As for my counting exercise, it may soon become impossible. I asked IBM's (IBM, Fortune 500) experts how many transistors Watson has. The system is so vast, complex, and ever-changing that they just don't know.