Treasurys fall on good, but not great, data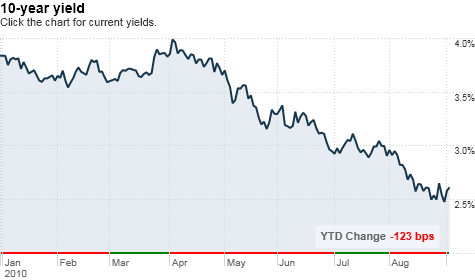 NEW YORK (CNNMoney.com) -- The economic outlook doesn't have to be entirely rosy for investors to shy away from the safety of Treasurys. Sometimes, all it takes is a little news that isn't completely terrible.
Moderately better-than-expected data on jobless claims and pending home sales offered a sliver of hope about the economy Thursday, driving investors out of Treasurys and sending yields higher.
"The news isn't terrible. But it's not great either, especially when you consider that mortgage rates are the lowest in recorded history. We should be seeing more [home] sales with financing so cheap," Mike Larson, real estate and interest rate analyst at Weiss Research said in a report.
Late Thursday, the yield on the benchmark 10-year note rose to 2.63%, up from 2.58% the day before. The 5-year note yielded 1.43% and the 30-year bond yielded 3.71%.
The 2-year note stemmed the tide of the longer-term notes, with its yield falling to 0.51%.
The government's weekly report on unemployment showed 472,000 people filed jobless claims for the first time last week. That high level -- which has been stuck above 400,000 since November -- suggests that the labor market remains sluggish, but it at least beat economists' gloomy forecasts.
And that was enough to drive investors away from Treasurys, as they shed their safe-haven bets to take on riskier assets.
Later in the morning, investors also took a surprising increase in pending home sales as an encouraging sign about the housing market. The report from the National Association of Realtors showed that in July, pending sales rose 5.2%, much better than the 1% decline economists had expected. Sales are still down 19.1% from year-ago levels.
Treasurys started out September under pressure, after stronger-than-expected manufacturing data out of the U.S. and China pushed investors toward riskier, but higher yielding, stocks.
But volatile trading and bearish economic news in August sent some Treasurys to record low yields just a week ago, so it's still too early to say the bond market has turned around and that investors have changed their negative sentiment about the economy.
"I still am outside of that line of thinking, mainly due to the fact that the numbers don't indicate we are about to break out of the current slow growth, low inflationary, jobless pattern which usually keeps optimism on the sidelines," Kevin Giddis, president of fixed income markets at Morgan Keegan wrote in a note to investors.
Wall Street is looking ahead to the government's jobs report due on Friday, as one of the most highly anticipated gauges of the economic recovery.