Harrisburg, Pa., defaulting on its bonds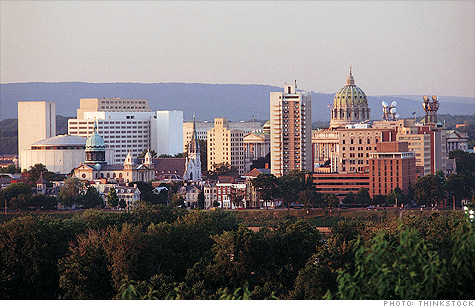 NEW YORK (CNNMoney.com) -- The capital city Pennsylvania is broke and will be skipping this month's multi-million dollar bond payment.
On Sept. 15, Harrisburg, Pa., was scheduled to make a $3.29 million payment on the bonds it issued to build a trash plant. But, the cash-strapped city doesn't have the dough.
"The city's budget is in deficit," said Chuck Ardo, spokesman for Harrisburg Mayor Linda Thompson. "We're looking for ways to trim the budget just to keep services going."
"Now the chickens have come home to roost," the mayor said in a statement released Wednesday.
In May, Moody's knocked the rating on its general-obligation bonds three notches to B2 -- five steps below investment grade. To put that into perspective: Moody's rating on Greece's government debt sits at A3 -- still investment grade.
"It's a warning to holders of bonds issued by financially stressed state and local governments," said John Lonski, chief economist for Moody's Investors Services. "Credit crisis is still with us."
And in, fact, many on city council have been floating the idea of bankruptcy.
However, Mayor Thompson chastised them for that and for shooting down her proposed increases to the real estate tax and water rate. She said that this "created a bigger hole" in the general fund and pushed the city closer to potential bankruptcy.
"There are some in this community who see bankruptcy as a silver bullet," said Thompson. "But, it's actually just a can of worms. The pro-bankruptcy cabal has blocked every attempt we've made to find a way back from the fiscal abyss."
She said the city "is developing a comprehensive plan to meet its debt obligations in the future."
Ardo said the mayor considers bankruptcy to be an "option of last resort," though it's not clear how the city will pull itself out of the red.
"Given the city's financial challenges, it's difficult to predict what will happen next," he said.
The city of Harrisburg is scouring its financial accounts as part of its drive for fiscal austerity. On Thursday, the mayor announced that the city was auditing a sanitation company for not paying $20,000 worth of waste disposal fees.