4 tips for caring for mom and dad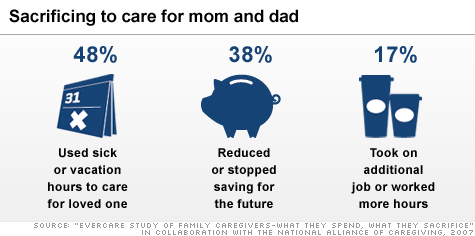 (MONEY Magazine) -- Caring for an ailing or aging parent is never easy, but the challenges only multiply when Mom and Dad live far away.
Nearly 7 million Americans care for an elderly relative from a distance, reports the National Alliance for Caregiving (NAC). If you're among them, you know full well the guilt and anxiety of not being able to be there at a moment's notice.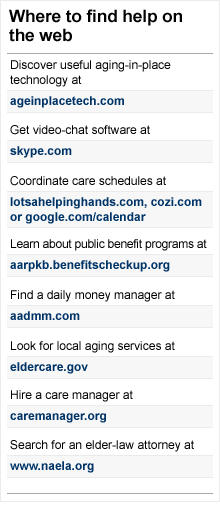 That's to say nothing of the financial stresses involved: Long-distance caregivers spend an average of $8,700 a year providing support to their loved ones, the NAC survey found -- nearly twice as much as those who live closer. Travel accounts for most of the extra burden, but there are also expenses involved with hiring people and services in your stead.
Whether your parent could use a hand with housework or requires full-time care because of a disabling condition, you want to do all you can to help. But there are only so many plane tickets you can buy without compromising your financial goals; only so often you can abandon your own household or your job.
These strategies can help reduce the stress without sacrificing quality of care.
Know Mom's Needs
It's tough to figure out exactly what your parents need when you're far away. So glean what you can when you visit: Is there a stack of unopened bills on the counter? Is there food in the fridge that's well past its expiration date? Is Dad unsteady on the stairs?
Then fill in as best you can with frequent phone check-ins. You might also use a free online video-chat service such as Skype. Video visits can help you spot a drop in weight or signs of confusion.
"You're looking for significant changes from normal patterns," says Donna Wagner, a gerontology professor at Towson University. (Don't think Mom and Dad can manage the technology? New software called PointerWare and In-TouchLink simplify computer interfaces for the elderly.)
Since you won't be able to get a complete picture this way -- Mom may try to hide frailties because she doesn't want you to worry or because she's afraid of losing her independence -- you'll also want to assemble a team of local folks who can alert you to changes in your parent's behavior or health.
Exchange numbers with Mom and Dad's best pals; ask them to contact you if they notice anything unusual. Also, time your next visit to coincide with a primary care doctor's appointment; that way, you can introduce yourself and get your parent to sign a HIPAA consent form, which allows the doc to share diagnosis and treatment information with you.
Once you determine that assistance is needed, broach the issue gently with your parent, framing it as a concerned observation about a challenge he is facing rather than your own fears.
You might say, "Dad, Uncle Walt noticed your fridge is empty. I wonder if we could do something to help you with grocery shopping?"
DIY Plan
If your parent just needs help with chores, errands, and the like, you may be able to put together a piecemeal care plan that costs nothing. Talk with family and friends who live nearer to your parents to see how they might be willing to help -- whether it's taking Dad to the doctor, having him over for meals, or doing his laundry.
Then figure out how you can assist from a distance. You may, for example, arrange for food deliveries from a grocery store or for a cleaning person to come weekly. You can also help your parent manage money, if that's an issue.
You'll eventually want a durable power of attorney, which authorizes you to make financial decisions on his behalf. But for basic bills, simply ask your parent to provide account numbers; then set up online access so you can automate payments and deposits. (If Mom and Dad don't want you meddling, hire a daily money manager, who will do those tasks for $35 to $100 an hour.)
Coordinate everyone's efforts via lotsahelpinghands.com, an invitation-only site that links your "team" to a common schedule, or via any other shared online calendar.
Get Low-Cost Help
Even with a solid network, you may have gaps you can't cover. Fortunately, your local Agency on Aging can help you access a swath of services for the elderly, including food delivery and meal programs, transportation around town, social activities, help with tax prep, and more.
These community-based resources are usually free or cost very little -- and some don't have income or asset criteria. For information, call 800-677-1116 or contact your relative's area Agency on Aging directly. Check with your employer too, says Wagner. Some large companies offer elder-care referrals through the benefits package or employee assistance program.
Bring on a Professional
If your relative requires more hands-on help than all these services provide, but isn't ready yet to leave his or her home, you may have to hire an aide. A personal-care aide can provide help with cooking, light housekeeping, and bathing; a home health aide or visiting nurse may be more appropriate in situations where medical monitoring is needed.
The hourly rate for such services ranges from around $15 to $30, depending on the skills required. Visit Eldercare.gov for state and local resources, as well as checklists to use when hiring health workers or shopping for care facilities, should it come to that.
Seem like too much to manage from afar? Call in a geriatric-care manager, a certified professional who knows the local offerings and can help you assess your options, says Elinor Ginzler, a vice president at AARP and author of Caring for Your Parents.
Consultations run $100 to $200 an hour, but your employer may offer such assistance for free or at a discount. Even if you have to pay, it can be worth the investment: A care manager could prevent you from having to fly back and forth to manage the process yourself; plus, such people are trained to decode state and local benefits and Medicare rules, which could save you and your relative a lot of money.
In the end, it'll be a relief to know that your parent is being well cared for.