Wall Street faces an economy at a 'crossroads'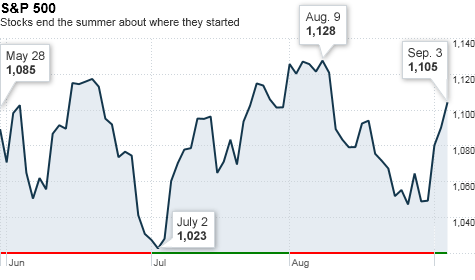 NEW YORK (CNNMoney.com) -- Stocks started September with a bang as investors cheered a rare dose of good economic news but investors may need to buckle in for the coming week: It's a holiday-shortened week with little on the docket to set the tone.
Last week, the Dow added 2.9% and moved back into positive territory for the year. The advance was fueled by a surprise rebound in manufacturing activity and a better-than-expected report on the labor market.
The upbeat news eased some worries about a renewed recession, but many investors remain skeptical about the outlook for growth and the sustainability of last week's rally.
"The economy is slowing, and appears to be nearing a crossroads," said Jim Baird, chief investment strategist for Plante Moran Financial Advisors. "It is too soon to determine whether a trip down the path toward a double dip recession is inevitable or if that outcome will be avoided."
Others are more optimistic. "There's a very strong argument to be made that stocks are cheap," said Hugh Johnson, chairman of Johnson Illington Advisors.
That argument, he said, assumes the economy will skirt a double dip recession and that growth will resume later in the year. "At a certain level, you're willing to take the risk," Johnson said, cautioning that a reduction in government stimulus and move towards higher taxes could present problems.
The cloudy outlook for the economy probably won't get much clarity this week with relatively few economic reports on the agenda. And trading could be choppy as many investors ease back in. U.S. markets will be closed Monday for the Labor Day holiday.
"I do expect [this] week's volatility to rise and investors begin to take sides on trading levels and economic growth," said Kevin Giddis, president of fixed-income at Morgan Keegan.
On the docket
Monday: U.S. markets are closed for the Labor Day holiday.
Tuesday: Markets are open but there are no economic reports on the agenda.
Wednesday: The Federal Reserve's Beige Book, a snapshot of economic activity across the nation, is due at 2 p.m. ET. The central bank is also slated to release data on consumer credit.
The government's weekly oil inventory report, which is usually released on Wednesday, comes out in the morning.
Homebuilder Hovnanian (HOV) reports quarterly results after the market closes.
Thursday: The government's weekly report on initial claims for unemployment and the July trade balance come out before the market opens.
Economists expect the Labor Department report to show that the number of Americans filing first-time claims for unemployment benefits rose to 470,000 in the week ended Aug. 4, down from 472,000 the week before.
The U.S. trade balance is expected to have fallen to $47.2 billion in July from $49.9 billion in June, according to economists surveyed by Briefing.com.
Friday: Government figures on July whole sale inventories are expected before the market opens.