Traffic deaths lowest since 1950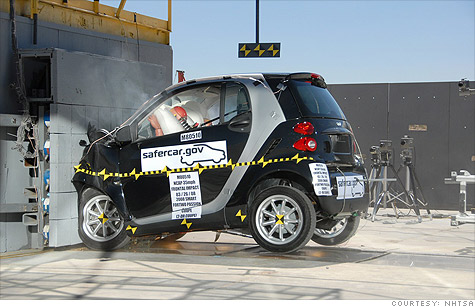 NEW YORK (CNNMoney.com) -- Traffic deaths have hit their lowest level since 1950, the year fatalities behind the wheel began to be tracked, according to the latest government statistics.
Car crashes killed 33,808 in 2009, a nearly 10% drop from the year before, according to data from the Department of Transportation's National Highway Traffic Safety Administration.
There were 33,186 deaths on U.S. roads in 1950.
The decline in fatalities occurred despite a slight increase in the number of miles actually driven. The fatality rate, meaning the number of deaths per vehicle mile driven in the country, was 1.13 deaths per 100 million vehicle miles driven, the lowest it has ever been, NHTSA said.
"At the Department of Transportation, we are laser-focused on our top priority: safety," Transportation Secretary Ray LaHood said in a statement. "Today's announcement shows that America's roads are the safest they've ever been. But they must be safer. And we will not rest until they are."
Besides safer vehicles and an increase in people buckling their seatbelts -- 85% of drivers now use their seatbelts, LaHood said during a press conference -- a weak economy may also have been a factor in the reduction.
During an economic decline, people make fewer trips for entertainment and enjoyment and those trips tend more often to be deadly, LaHood said. Given that, traffic deaths will probably increase as the economy improves, he said, but they are not likely to return to past levels.
Alcohol-related traffic deaths, one of the leading types of fatal traffic accidents, declined by 7.4% between 2008 and 2009, NHTSA said. Last year 10,839 people were killed in alcohol related crashes, the agency said, about a third of all traffic deaths.
Drunk driving will continue to be a major focus of NHTSA's auto safety efforts, NHTSA Administrator David Strickland, said.
"We will not rest until this deadly crime stops," he said in a press conference.
Deaths declined in all vehicle categories last year, LaHood said, including motorcycles. 850 fewer people died riding motorcycles in 2009 compared to the year before. This follows 11 years of increases in motorcycle deaths which Strickland attributed to states repealing mandatory motorcycle helmet laws. Strickland attributed part of the decline to better education on motorcycle safety as well as people taking fewer discretionary motorcycle trips because of the weak economy.
All traffic accidents, fatal or not, declined by 5.3% between 2008 and 2009, the agency said.
Motor vehicle crashes are the leading cause of death for those between the ages of 3 and 34, NHTSA said.