Stocks end higher after light trading day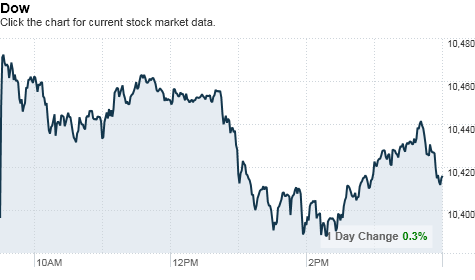 NEW YORK (CNNMoney.com) -- Stocks posted tepid gains, down slightly from their earlier rally Thursday as investors mulled over better-than-expected reports on the U.S. trade deficit and weekly jobless claims.
At the closing bell, the S&P 500 (SPX) was up 5 points, or 0.5%, to 1,104, the Nasdaq (COMP) Composite climbed 7 points, or 0.3%, to 2,236, and the Dow Jones industrial average (INDU) rose 28 points, or 0.3%, to 10,415.
Earlier in the session, the Dow had gained as much as 51 points.
All three major indexes started the month with a bang following a series of stronger-than-expected economic reports. But this week, trading has been a bit shaky, with little on the docket to push stocks forward.
Trading volume is 30% below the 3-month moving average, which is not unusual for the shortened holiday week following Labor Day. Nevertheless, that lackluster volume means none of this week's stock market moves amount to much, said Art Hogan, chief market strategist at Jefferies & Co.
"Whatever happens, it doesn't clarify anything in investor's minds. We will have to wait until next week," he said. "That said, it's intriguing that as early as two weeks ago the economic calendar was working in the wrong direction. All we could talk about was a double dip. That has gone the way of the dodo bird now."
Stocks closed higher Wednesday as worries about European banks eased, and investors welcomed President Obama's $350 billion jobs recovery plan.
Economy: The Labor Department's weekly report on initial jobless claims showed that 451,000 first-time claims for unemployment benefits were filed in the week ended Sept. 4. This was significantly less that consensus forecast from Briefing.com of 470,000.
The latest figure was down 27,000 from an upwardly revised 478,000 in the previous week.
Also, the Commerce Department reported that the U.S. trade deficit slipped to $42.8 billion in July, sharply lower than the Briefing.com consensus forecast of a $47.3 billion deficit. It also marks a decline from the slightly revised deficit of $49.8 billion for the prior month.
BWF Financial analyst Hamed Khorsand said the jobless claims number was a bigger driver than the trade figures. "Even though employment is really a lagging indicator of the economy, it's gotten to a point where it's now setting the sentiment," he said.
Companies: Shares of Adobe Systems (ADBE) surged more than 12% after Apple (AAPL, Fortune 500) said it will drop restrictions on what programming tools developers can use to create iOS apps. Shares of Apple rose 0.6% after the news.
McDonalds (MCD, Fortune 500) said its global same-store sales rose 4.9% in August, boosted by its sales of smoothies and frappes. But the sales increase fell short of economists' forecasts and shares of the fast-food giant fell 2.3% on the news.
Goldman Sachs (GS, Fortune 500) rose 1.1% after Britain's Financial Services Authority said the firm agreed to pay a $27 million fine for not disclosing a U.S. government investigation into the the allegedly fraudulent activity of Fabrice Tourre, a London-based Goldman trader.
World markets: European shares rose. Both the CAC 40 in France and Britain's FTSE added 1.2%, and the DAX in Germany gained 0.9%.
Asian markets ended mixed. Japan's benchmark Nikkei index rose 0.8%, and the Hang Seng in Hong Kong edged up 0.4%. The Shanghai Composite tumbled 1.4%.
Currencies and commodities: The dollar rose against the euro, British pound and the Japanese yen.
Oil futures for October delivery fell 42 cents to settle at $74.25 a barrel.
Gold for December delivery fell $6.60 to settle at $1,250.90 an ounce.
Bonds: The yield on the 10-year Treasury note rose to 2.76%, from 2.65% late Wednesday.