Obama: Close tax loopholes to juice economy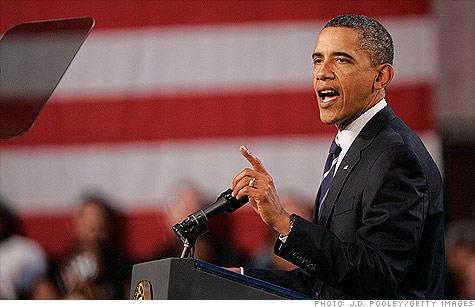 WASHINGTON (CNNMoney.com) -- As President Obama pushes a new campaign to juice up the economy, he's starting to fill in the details of how he would pay the estimated $180 billion tab. His plan: Eliminate some corporate tax breaks and subsidies, and close loopholes.
"For years, our tax code has actually given billions of dollars in tax breaks that encourage companies to create jobs and profits in other countries. I want to change that," Obama said in his speech in Cleveland on Wednesday.
If Congress were to pass new economic recovery measures, it could pay for them by raising some $300 billion in new revenue by closing "tax loopholes," according to White House economist Jason Furman.
With Americans nearly as concerned about rising deficits as they are the lackluster economy, the president and lawmakers recognize that any new policy initiatives must be funded.
The White House has yet to specify exactly which corporate tax breaks would be on the chopping block, beyond saying that oil and gas companies will be first up. But Furman pointed to billions of dollars worth of tax loopholes that the administration has previously identified in budget proposals that Congress has yet to enact.
Here are two examples from the White House's proposed 2011 budget, as noted by Anne Mathias of Concept Capital's Washington Research Group:
* Limiting the amount of interest that can be deducted by U.S. subsidiaries of companies that have moved overseas. That could raise $1.7 billion.
* Repealing a manufacturing tax deduction that large global oil and gas firms get. That could raise $15 billion.
The problem is, many of these money-raisers have already been thrown on the table and presented to Congress, which hasn't done much with them. Also, every targeted tax break has a company behind it with a swarm of hired lobbyists poised to defend it.
Congress has already passed legislation to close some international tax loopholes, but White House officials still think there's more left to tackle. A 150-page report from the Treasury Department details the laundry list of tax changes the White House is pushing for.
Figuring out how to pay for the package will be key to congressional passage. Several Republicans -- plus one Democrat, Sen. Mary Landrieu of Louisiana -- have already come out swinging and said they don't want raise taxes on the oil and gas industry.
"While these tax increases may be politically popular in some areas of the country, they have a disproportionately negative effect on working families in the Gulf Coast where much of the industry is located," Landrieu spokesman Aaron Saunders said. "Sen. Landrieu fully supports getting America's economy back on track but feels that it should not be done at the expense of the Gulf Coast."