Trade gap plunge raises U.S. growth hopes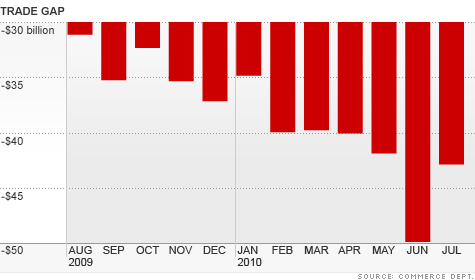 NEW YORK (CNNMoney.com) -- The nation's trade gap fell sharply in July, reducing a major headwind for U.S. economic growth and quieting some fears of a double-dip recession.
The trade deficit fell to $42.8 billion from $49.8 billion in June, according to a report from the Commerce Department Thursday. That's well below the forecast of a $47.3 billion gap from economists surveyed by Briefing.com.
Exports hit a record $153.3 billion in July, up 2% from June and 18% from a year earlier. Imports slipped 2% from June to $196.1 billion, although they are still up 21% from July 2009.
A smaller trade gap is good news for the U.S. economy, and it is likely to lead economists to lift their growth estimates for gross domestic product, the broadest measure of the nation's economic health, in the third quarter
A bigger than expected trade gap in June was one of the factors that caused GDP to slow to a 1.6% annual growth rate in the second quarter. The trade gap in that quarter shaved 3.4 percentage points off of growth.
But while strong exports are good news for U.S. businesses, the weak imports number is a worrisome sign, since it may indicate that American consumers are still reluctant to spend.
"We're still not sold on U.S. consumers," said Jay Bryson, global economist for Wells Fargo Securities.
The better trade figures won't be enough to overcome what is expected to be a sharp plunge in residential and commercial real estate investment, and worries about slumping consumer demand, Bryson said.
His firm has not raised its growth outlook and is still looking for another quarter of only 1.6% growth.
But Bryson said he expects exports to continue to grow, even if the pace is likely to sputter in the face of slowdowns in a number of global economies.
"Is 20% sustainable? No. that's going to slow into single digits as we go forward," he said. "But we'll trend higher."
The latest trade report should help to alleviate some worries of a double-dip recession, Bryson said.


This report suggests that the June trade gap reading that so worried economists may have been only a temporary spike, said Paul Dales, U.S. economist for Capital Economics. Growth might not be as weak as feared moving forward, even if the trade gap continues to edge higher from here, he said.
One factor that might have darkened the June trade numbers, according to Dales, was an expiring tax credit in China, which may have influenced some Chinese exporters to move ahead their shipments to June to qualify. Dales forecasts that the seasonally-adjusted China-U.S. trade gap fell by $2.7 billion in July.
"It now looks like the underlying trend wasn't as bad as the June trade numbers suggested," said Dales. "If everything else remained the same, this could point to 5% growth in the third quarter. That won't happen, but we're looking at at least 2 to 2.5% growth now."
Barclays Capital also said the trade gap pointed to 2.5% growth in the third quarter. They also see the trade report as a positive sign for growth going forward.
"We will see less of a drag from trade in the third quarter on GDP growth than we expected," said a note from the firm Thursday.