Apple loosens its chokehold on app development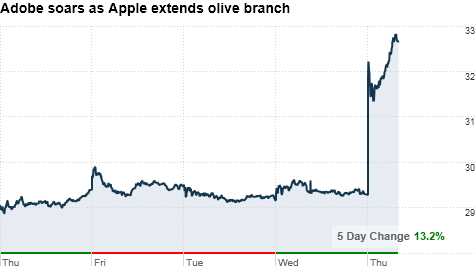 NEW YORK (CNNMoney.com) -- Apple is loosening its grip on its app development for its mobile devices, announcing Thursday that it will drop restrictions on what programming tools developers can use to create iOS apps.
The company also dropped a ban on certain in-application ad serving tools that had effectively cut off Google's AdMob service.
The unexpected move means Apple is standing down in what had become an increasingly heated battle between the company and the developers who have created the more than 250,000 apps that stock Apple's App Store.
"We have listened to our developers and taken much of their feedback to heart," Apple said. "This should give developers the flexibility they want, while preserving the security we need."
Apple's rule changes are quite technical, and developers raced to pore over the fine print and figure out exactly what they mean.
But the practical upshot is that programmers will be able to use tools from Apple's rivals -- most notably Adobe -- to build software for Apple's iPhones, iPads and iPods.
Adobe's current Flash development suite includes a tool for converting apps to run on Apple's platform, but the company said in April that it would stop further development on that tool because of Apple's restrictions and focus more on Google's Android operating system.
Adobe on Thursday praised Apple's change of heart. "We are encouraged to see Apple lifting its restrictions on its licensing terms, giving developers the freedom to choose what tools they use to develop applications for Apple devices," the company said in a written statement.
A company representative declined to comment on the fate of Adobe's stalled Packager for iPhone tool.
But Flash programmers were quick to chime in: "We're back in the game," one posted in Adobe's forum right after Apple's announcement.
Developer Brad Manderscheid expects the new rules to be a big boost for his Milwaukee-based application development company, ActionMouse.
Most of his work is done with Adobe's Flash, and Apple's move to block Flash-to-iPhone conversion tools meant some of his planned projects for clients had to be scrapped.
"A lot of work that we had pending went away," he said. "I was more mad than anybody I know -- Adobe built all these tools for us to do all these cool things, we had all these beta programs ready to go, and Apple comes out and says 'stop.'"
Now, he'll be able to use Adobe tools to "write once, run anywhere," and convert his applications to run on iOS as well as platforms like Android.
"I don't have to be just in one team or another," he said. "It opens everything up, the way it should be."
Veteran Apple developer Greg Slepak was so incensed in April by Apple's new restrictions that he e-mailed his objections to Steve Jobs -- who responded. Slepak reprinted the exchange on his blog, where it drew hundreds of replies.
Slepak, who let his iOS Developer Program account expire in the wake of the clampdown, said he's now considering renewing it. Apple's policy changes seem to effectively address developers' concerns, he said.
"This isn't just about Adobe," he said. "I don't much care for Flash apps on the iPhone, but I do care about some of the third-party frameworks that would have been restricted by this. Some entire companies, their livelihood was put into question."
Apple's previous policy of banning unapproved development tools had drawn notice from federal regulators, who have reportedly considered launching an antitrust investigation of Apple's software development rules.
Google (GOOG, Fortune 500) applauded the fact that developers will now be able to use AdMob to sell and serve ads in their iPhone applications.
"This is great news for everyone in the mobile community, as we believe that a competitive environment is the best way to drive innovation and growth in mobile advertising," the company said in a blog post.
Apple also said it will for the first time publish review guidelines to help developers understand how it vets the applications submitted to its App Store. Developers have frequently griped about Apple's opaque and occasionally drawn-out review process.
"We hope it will make us more transparent and help our developers create even more successful apps for the App Store," Apple said of its decision to release the guidelines.
Shares of Adobe (ADBE) ended Thursday trading up 12% on the news, at $32.86. Shares of Apple (AAPL, Fortune 500) were essentially flat, at $263.07.