Coffee prices on the rise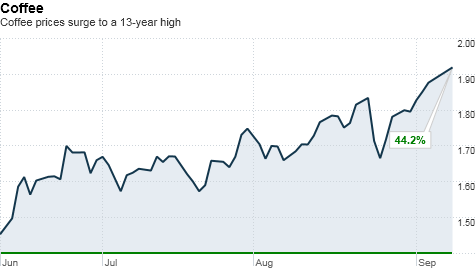 NEW YORK (CNNMoney.com) -- You may soon find yourself paying more for your morning coffee - if you aren't already.
A trifecta of bad news has sent coffee futures soaring 44% since June, and companies such as Dunkin' Donuts, Green Mountain and Maxwell House are passing on those costs.
Bad weather in South America is threatening crops. Brazil and top exporter Vietnam are talking about hoarding their stocks. And U.S. stockpiles are reportedly at 10-year lows.
That means higher prices for U.S. coffee companies, which, in turn, may mean higher prices for consumers.
Bagged coffee from Folgers, Dunkin' Donuts and Millstone already costs 10% more. The three brands' parent company, J.M. Smucker (SJM), cited "sustained increases in green coffee costs" in announcing the price hike last month.
Kraft Foods (KFT, Fortune 500) raised prices of Maxwell House Coffee and Yuban coffee products by about 9% last month as well. That translates into a price hike of 5 cents to 30 cents per pound of ground coffee and an increase of 2.5 cents per ounce for instant coffee.
And single-serve K-cups - sold as Tully's Coffee, Timothy's Coffee, Newman's Own Organics, Caribou Coffee and other Green Mountain Coffee brands - will see prices rise 10% to 15%, starting Oct. 11. Sales of the brewing system and K-cups make up about 86% of Green Mountain Coffee Roasters Inc. (GMCR)'s business.
"Like others in the coffee industry, we have been closely monitoring rising green coffee costs," Scott McCreary, president of Green Mountain's specialty coffee unit, said in a statement. "While we have the flexibility to absorb some short-term cost increases, the sustained nature of the increases we've experienced over the past three months led us to conclude it is necessary to adjust our pricing."
The ripple effect: As retailers start paying more, the coffee you drop into your shopping cart may very soon start costing you more at the register.
Supermarket chain Publix said it has left some coffee prices unchanged to remain competitive. But the grocer has boosted prices on some brands, including a container of Folgers Classic Aroma Coffee, which used to cost $8.99 and is now being sold for $9.99.
One bright spot: While you may be paying more at the grocery store, your daily cup of joe at the corner coffee shop may be spared because pricing decisions are made by each shop individually.
"We may at various times increase or decrease prices on some items," Starbucks (SBUX, Fortune 500) said in a statement. "We continually review our food and beverage prices on a market by market basis taking the economic environment, customer demand, competition, cost of goods and labor costs, as well as other factors into consideration."
Popular morning hot spot Dunkin' Donuts said that it's not yet raising prices at its locations.
"Dunkin' Donuts restaurants are independently owned and operated by franchisees, who are responsible for making their own pricing decisions," the company said in a statement. "While we are aware of J.M. Smucker Company's recent price increase for grocery store coffee, it will not impact the cost of coffee in our restaurants."
Supply crunch: With U.S. coffee stockpiles at multi-year lows and world coffee exports down 5.2% in July compared to a year earlier, worries about a supply crunch have driven prices higher.
"It's the age-old principle of supply and demand," said Hector Galvan, a senior trading adviser at RJO Futures. "The larger coffee-growing nations like Colombia and Brazil are having really significant issues getting good crop out to the market."
And while a large crop is expected in Brazil next year, he said poor weather conditions could further cut production in Vietnam and Central American countries from 2010 to 2011.
"The current behavior of prices reflects uncertainties concerning short-term coffee supplies," Néstor Osorio, executive director of the International Coffee Organization, said in a statement.
As uncertainties persist, investors are placing significant bets on where prices are headed, said Galvan, with prices approaching the psychologically important $2-a-pound level.
"With all these supply fears, investors are jumping on the money train - even mom and pop investors want to jump on because of how evident the [production] issues have been over the last couple months," he said.
Futures for December delivery settled at $1.95 a pound Thursday.