Stocks end mixed after choppy day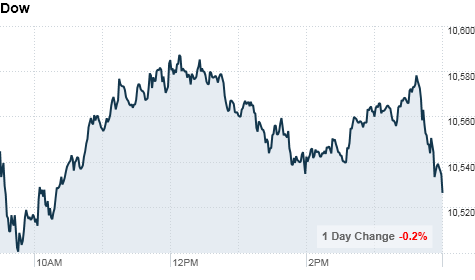 NEW YORK (CNNMoney.com) -- Stocks managed to pare some losses Tuesday on better-than-expected retail sales data, but indexes ended mixed as investors stepped back from a recent runup.
The Dow Jones industrial average (INDU) fell 18 points, or 0.2%, to end at 10,526.49. The Nasdaq (COMP) added 4 points, or 0.2%, to close at 2,289.77 and the S&P 500 (SPX) fell 1 point, or 0.1%, to end at 1,121.10.
Before Tuesday, the blue-chip Dow and the S&P had closed higher for eight out of nine straight sessions. After that kind of run, analysts say it's not uncommon for investors to take a breather.
Stocks opened weakly Tuesday and turned lower in the morning, but they had pared most of the morning's losses by the afternoon.
"The market has a bipolar effect to it right now -- it doesn't know what it's doing," said Joseph Saluzzi, co-head of equity trading at Themis Trading.
Stocks had rallied Monday after the release of new global banking rules, upbeat economic data from China and some acquisition activity helped boost investor sentiment.
Investors will continue to take their cues from the economy. While retail sales rose for the second consecutive month, the increase was still modest, keeping stock gains in check.
Meanwhile, with the dollar falling to a fresh 15-year low against the yen, some investors are turning to the safety of gold, sending the precious metal to a new intraday record high.
Economy: U.S. retail sales rose 0.4% in August, or a gain of 0.6% excluding auto sales. This slightly outpaced economists' expectations. Retail sales were expected to have risen 0.3% last month, according to consensus estimates from Briefing.com.
"Sales were slightly better than expected, but July was revised lower," Saluzzi said. "With that kind of back-and-forth, people don't know what to make of these figures."
After the opening bell, another government report showed business inventories rose 1% in July, following an upwardly revised 0.5% increase in June. The July figure is the highest increase in two years.
Additionally, a $42 billion bill to spur small business job creation cleared a key test in the Senate Tuesday. The Small Business Jobs Act includes $30 billion to spur lending and $12 billion in tax breaks.
Companies: Shares of electronics retailer Best Buy (BBY, Fortune 500) surged to end 6% higher Tuesday, after the company reported earnings that beat expectations and also raised its outlook. Best Buy earned 60 cents per share on revenue of $11.3 billion in its latest quarter.
Analysts polled by Thomson Reuters expected a profit of 44 cents a share and $11.5 billion in revenue. Best Buy also raised its earnings-per-share guidance for 2011 to $3.70 from $3.55.
Citigroup analysts said Tuesday that incoming BP (BP) Chief Executive Bob Dudley told them the company believes claims will be less than the $20 billion it has set aside for the "Independent Claim Fund."
But in separate news, the Justice department expects to sue BP for damages from the Deepwater Horizon oil spill, according to a filing made last night with the U.S. District Court in New Orleans.
BP shares ended 0.4% higher.
Cisco Systems Inc. said on Tuesday that it will begin to pay a dividend yielding between 1% and 2% in the current fiscal year, which ends in July 2011. Shares of Cisco (CSCO, Fortune 500) initially rose 2% on the announcement, but gains slowed and the stock ended 0.9% higher.
Toyota Motor Co. (TM) said it will put out six all-new hybrid vehicles worldwide by 2012. Shares closed down 0.7%.
World markets: European shares hovered around breakeven for most of the day but closed higher. France's CAC 40 and Germany's DAX ended 0.3% higher, while and Britain's FTSE 100 added 0.2%.
Asian markets ended mixed. Japan's benchmark Nikkei index fell 0.2% and the Hang Seng in Hong Kong rose 0.2%. The Shanghai Composite ended flat.
Currencies and commodities: The dollar edged up against the euro and the British pound, but slipped versus the yen.
Earlier in the session, the dollar hit a fresh 15-year low against the yen. News reports said the Japanese government may take steps to curb the currency's strength amid growing concerns about the pace of the recovery. But most traders still don't expect to see any intervention just yet.
Oil futures for October delivery fell 39 cents to settle at $76.80 a barrel. Gasoline prices are spiking across the Midwest, because of several pipeline closures by Ontario-based Enbridge Inc.
Gold for December delivery rose to $1,276.50 an ounce earlier in the session, a new intraday record. The previous record was about $1,264.80 an ounce on June 21. Tuesday's settlement price, $1,271.70 an ounce, was also a new record.
Bonds: The yield on the 10-year Treasury note fell to 2.67% from 2.76% late Monday.