Treasury yields mixed on Japan currency move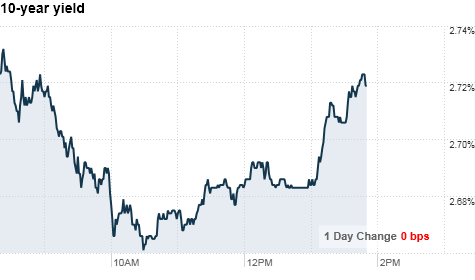 NEW YORK (CNNMoney.com) -- Treasury yields were mixed Wednesday as investors responded to the Bank of Japan's decision to intervene in the currency market, along with mixed reports on U.S. manufacturing activity.
Japan's Ministry of Finance announced that the Bank of Japan would sell yen and buy U.S. dollars in its first currency intervention since 2004. The goal is to curb the meteoric rise of the yen, which has been a major source of concern for Japan's export-driven economy.
The move raised speculation in the Treasury market that the Bank of Japan could reinvest U.S. dollars into short-term U.S. bills, said Kim Rupert, a fixed-income analyst at Action Economics. She estimated that the total value of the intervention was about $12 billion.
While the currency intervention weighed on yields for short-term maturities, the longer end of the curve was supported by mixed economic news.
The yield on the benchmark 10-year note rose to 2.74%, from 2.67% late Tuesday. The 30-year bond advanced to 3.87%, up from 3.80%; and the 5-year edged up to 1.45% from 1.43%. The 2-year yield eased to 0.49% from 0.50% late Tuesday.
Meanwhile, mixed reports on the manufacturing sector helped fuel demand for the safety of U.S. debt.
A report on manufacturing activity in the area around New York came in slightly weaker than expected, although analysts said the Empire Index still reflected improvement in the sector.
Separately, government data showed that industrial production rose 0.2% in August, below the 0.3% gain expected by economists. Capacity utilization fell to 74.7%, from a downwardly revised 74.8%.
"The manufacturing recovery has clearly lost some momentum since the spring," said Paul Ashworth, senior economist at Capital Economics. "We don't expect this to develop into an outright collapse, but some of the survey evidence is still worrying."