Need a job? Head to Washington, D.C.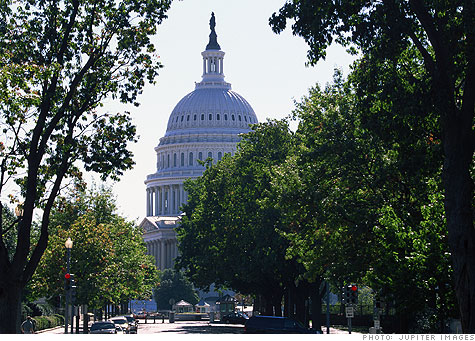 NEW YORK (CNNMoney.com) -- Looking for a job? You might want to head to the nation's capital city.
Employment in the District of Columbia is up 3% this year, outpacing every other state in the nation. Last month alone, D.C. posted a gain of 17,800 jobs, up 2.5% from July -- the country's biggest gain.
"The stability that D.C. has shown throughout this recession is building confidence with businesses around here," said Lawrence Mishel, president of the Economic Policy Institute, a D.C.-based think tank that currently has one job opening.
Job postings in the D.C. area are up 6% from a year ago, according to the Monster Employment Index, which tracks data from job boards, government sites and individual corporations.
And the ratio of unemployed people per job posting is one-to-one -- better pavement-pounding odds than any other city.
Software engineers and project managers are the most in demand, thanks to several large Virginia-based companies, including General Dynamics (more than 100 open positions), ManTech International (36 jobs available) and SAIC (more than 200 jobs).
Plus, many of these full-time positions in D.C. pay more than $40,000 a year, according to a search on Indeed.com.
Economists, however, agree that D.C. -- and the nation -- are not out of the woods.
Nationwide, unemployment is still at 9.6%, and more than 20 million people are searching for work. Last month, the economy lost a total of 54,000 jobs, most of which came from the public sector.
And things are slightly worse in D.C. The town's unemployment rate is at 9.8%, and the federal government -- the area's largest employer -- has been shedding jobs for three consecutive months.
"It's good to see improvement but we always need to be wary," cautioned Heather Boushey, senior economist at the Center for American Progress, a D.C.-based organization with more than two dozen job openings. "I wouldn't say that the great recession has ended for those in the District."