Gold hits another new high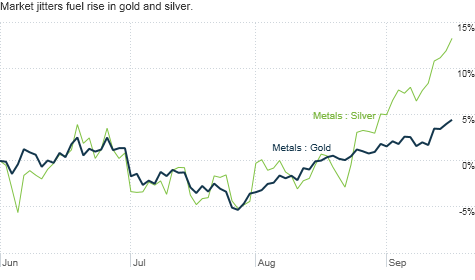 NEW YORK (CNNMoney.com) -- Gold prices climbed to yet another record Friday, continuing a week-long rally fueled by uncertainty over the global economy.
Gold futures for December delivery rose $3.70 to settle at an all-time high of $1,277.50 an ounce. It was the latest in a series of record highs this week. On Thursday, gold closed at $1,273.80 an ounce -- the previous high.
Earlier Friday, gold rose to an intraday record of $1,284.40 per ounce. That eclipsed the intraday mark of $1,279.50 an ounce in the previous session.
The surge in gold prices is being partly driven by a "complete lack of confidence in the governments of the world being able to sort out their financial mess," said Gary Mead, senior commodity analyst with VM Group, a London-based commodity strategist firm.
The value of the precious metal has been recognized for thousands of years, so gold is viewed as a safe haven during tough times. It's considered a low risk commodity that enjoys peak prices during times of volatility, when traders feel queasy about stocks and currencies.
Over the past week or so, Mead said that gold is being fueled by volatility with the U.S. dollar, perceptions about the U.S. economy, fears of inflation, and the possibility of more quantitative easing -- referring to the buying of bonds by the U.S. government.
Jono Remington-Hobbs, a precious metals analyst with TheBullionDesk.com in London, said the possibility that the Federal Open Market Committee might make statements about quantitative easing at its November meeting is partly responsible for the rising tide in gold prices.
"The more we're going to hear talk about the quantitative easing, that's going to be real beneficial for gold," he said.
Gold isn't the only metal to ride the wave of economic jitters. Silver continued its upward march, edging up 4 cents per ounce to settle at $20.79. Earlier this month, silver rose above the $20 mark for the first time since 2008.
Remington-Hobbs said that silver was flirting with its 30-month target of $21.36 per ounce, an intraday spike that was hit on March 17, 2008.
But he noted that silver is still far short of its all-time high of $49.45 per ounce, reached in January 1980. Adjusted for inflation, that would be even higher in 2010 dollars: $131.01 an ounce.
Gold hit its true peak on Jan. 21, 1980, when it rose to $825.50 an ounce. Adjusted for inflation in 1980 dollars, that translates to an all-time record of $2,184.08 an ounce, in 2010 dollars.