Obama names Warren as special adviser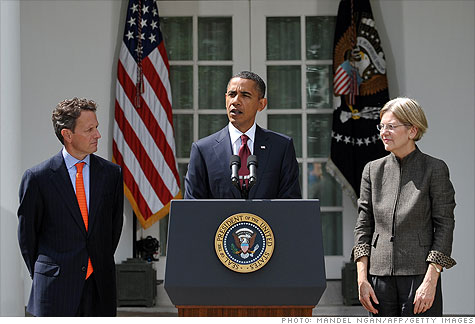 WASHINGTON (CNNMoney.com) -- President Obama announced Friday that he's appointing Harvard law professor Elizabeth Warren to a key role crafting the consumer financial protection bureau that was her idea in the first place.
"Getting the agency off the ground is a task that can't wait," Obama said. Warren "is the best person to stand this agency up...it only make sense that she should be the architect," he added.
Warren, 61, said she "enthusiastically agreed" to serve as a special adviser in the Obama administration, in a blog post appearing on the White House Website.
"He has also asked me to take on the job to get the new CFPB (Consumer Financial Protection Bureau) started right now," Warren said. "The President and I are committed to the same vision on CFPB, and I am confident that I will have the tools I need to get the job done."
Warren echoed those remarks in an interview with CNN's John King, saying she wants to begin work Monday. But she was reluctant to comment on where she would be after the agency is up and running in July.
"I know the direction I want to go but I'm sure not clear where we're going to be in a year," she said.
The job gives the outspoken Warren a unique insider's megaphone within Treasury and the White House, while sidestepping a Senate confirmation battle. Her title will be Assistant to the President and Special Advisor to the Treasury Secretary.
Warren told CNN on Friday that she's "very confident" she will have real power to get the new agency set up with teeth based on conversations she's had with the president.
Other key officials who helped shape the Dodd-Frank Wall Street Reform and Consumer Protection Act said they are elated with Warren's new role.
"I am very pleased that the President agreed with those of us who pushed hard for Elizabeth Warren to be appointed," said Rep. Barney Frank, D-Mass., who runs the House financial panel. "I look forward to working with her in her new position and to making sure that American consumers get the full benefit of the law we recently passed."
Warren will report to the president and Treasury Secretary Timothy Geithner.
Her new role working inside Treasury prompted her to relinquish the job she's had for nearly two years running the Congressional Oversight Panel, which monitors the $700 billion bank bailout.
That panel often issues reports critical of Treasury's work administering the bailout program.
Over the past few months, the Treasury Department has been laying the groundwork for the consumer agency, which will be independent and autonomous, but housed inside the Federal Reserve. That agency has already hired 35 staffers, including some from other agencies.
First up for Warren is a hearing next Tuesday at Treasury, soliciting expert opinion on ways to create a new, simplified disclosure form for mortgages contracts, Treasury announced.
Warren's appointment does not mean that she will be the official director of the bureau once it's up and running in 10 months. But she will have say in who gets the job, Obama said Friday.
Press Secretary Robert Gibbs wouldn't say whether Warren's new job would preclude her from also being a candidate for the director job as well.
He said the president would likely nominate a consumer bureau director, who would go through the official Senate confirmation process, in coming months. But Gibbs declined to rule out Warren as a nominee.
The new job provides a temporary end run around the Senate, where hundreds of presidential nominees, including three up for the Federal Reserve Board of Governors, await confirmation.
The move has particularly irked Republicans. On Friday, two House Republicans wrote a top White House attorney asking about Obama's "unusual arrangement" in naming Warren as a special adviser.
"By giving Professor Warren responsibilities at both the White House and the Treasury Department, he is undermining Congressional oversight while giving her substantive authority over the CFPB," wrote Rep. Darrell Issa, R-Calif., and Rep. Spencer Bachus, R-Ala. in the letter. "This is unprecedented."
But Warren defended the appointment in her interview with King, arguing that statutes in the financial reform bill allow her to begin working on the agency immediately to avoid delays.
"The statute is clear," she said. "It actually is structured to say get going on the agency now, and when you can go through the confirmation process and get somebody confirmed then it will be the time to ... hand it from Treasury over to the new agency independently."
Warren remains controversial in Washington. Left-leaning groups adore her, are thrilled about her new gig, and are still pushing for her to run the agency.
"Elizabeth Warren is exactly the right person to set the new Bureau of Consumer Financial Protection on the right course," said Lisa Donner, executive director for Americans for Financial Reform, a coalition of consumer, investor and union groups.
But her tough-love attitude toward banks and her sheer popularity among the masses make many in the banking industry nervous.
The U.S. Chamber of Commerce released a statement opposing the president's move to make her an adviser.
"This maneuver is an affront to the pledge of transparency and consumer protection that's purported to be the focus of this new agency," said David Hirschmann, president of the chamber's center for Capital Markets Competitiveness.
Despite Hirschmann's sentiment, Warren said in her interview with King that not all bankers are against her.
"There are some bankers who like me," she said. "People who want to put out good, simple products that folks can understand and understand the price, understand what the risks are, exercise their own personal responsibility about whether or not they want to do it."
-- CNN's Ed Henry contributed to this report.