Stocks: All eyes on housing this week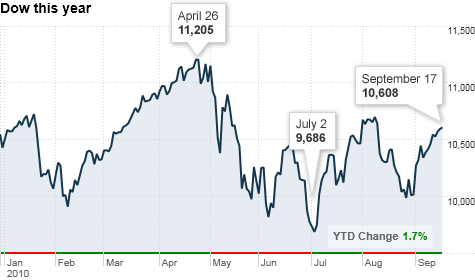 NEW YORK (CNNMoney.com) -- All summer, analysts said stocks would drift until taking direction in mid-September. But the ides of the month have passed, and the market is still flat.
Company earnings are strong, but hiring reports and other economic data have been mixed, leaving investors confused. Stocks have drifted on this muddied picture, trading in a narrow range.
That could change with a raft of economic data coming out this week, as a majority of the reports will reveal details about the key housing sector.
"The focus on housing cannot be overstated," said Joseph Saluzzi, co-head of equity trading at Themis Trading.
Market participants are looking at housing, unemployment and the national budget deficit as clues to whether the recession is abating, Saluzzi said. Stocks are at a level where they could break higher, he added, but people are still very cautious.
"If housing prices remain at rock bottom, people can't spend," Saluzzi said. "If they can't spend, we won't get a robust recovery. Housing ties it all together."
Therefore, investors will keep a close eye on this week's reports about sales of new and existing homes, housing affordability, building permits and residential construction.
Monetary policy is also in the spotlight Tuesday, with the Federal Reserve releasing the minutes from its last meeting. The central bank is widely expected to keep its key interest rate target unchanged at historical lows between 0.0% and 0.25%.
Investors will scrutinize the statement for "any signs that the Fed will raise rates, or take any other intervention actions," said Mark Luschini, chief investment strategist at Janney Montgomery Scott.
With such a heavy schedule of reports on tap, stocks could see more action this week than they have in a slow September thus far. Last week, stocks ended higher on Monday and Wednesday but closed mixed to flat the rest of the week. The Dow gained 0.6% over the week, while the S&P added 0.3% and the Nasdaq leapt 1.3%.
The previous week, stocks went practically nowhere, with one big leap back and three baby steps forward.
On the docket
Monday: After the start of trade, the National Association of Home Builders and Wells Fargo will release a report with their housing affordability index. Economists polled by Briefing.com expect the reading inched up to 14 in September from 13 in August.
Tuesday: Before the opening bell, the Commerce Deparment will release its August report on housing starts and building permits.
New home construction is expected to have risen slightly. Economists polled by Briefing.com predict housing starts jumped to a 550,000-unit annualized rate in August from a 546,000-unit annualized rate the previous month.
The report is also expected to show that building permits, a measure of builder confidence, rose to a 560,000-unit annualized rate in August from a 559,000-rate in the previous month.
The Federal Reserve will release the minutes from its most recent policy-setting meeting.
After the close, Adobe Systems (ADBE) will report its third-quarter earnings. The software developer is expected to have earned 49 cents per share versus 35 cents a year earlier, according to Thomson Reuters.
Wednesday: Before the opening bell, Golden Valley, Minn.-based cereal maker General Mills (GIS, Fortune 500) is expected to report it earned 63 cents per share last quarter, down from $1.28 a share a year earlier.
The weekly crude oil inventories report is due in the morning.
After the closing bell, Bed Bath & Beyond (BBBY, Fortune 500) will report its quarterly earnings. Analysts expect the home furnishings retailer earned 63 cents a share, versus 52 cents in the prior year
Thursday: The Department of Labor will release weekly jobless claims figures before the start of trade. The number of Americans filing new claims for unemployment last week is expected to remain unchanged from 450,000 the previous week.
The Leading Economic Indicators (LEI), from the Conference Board, is expected to have risen 0.1% in August after increasing by that amount in July.
The National Association of Realtors will release its monthly report on existing home sales, which analysts polled by Briefing.com expect rose to an annual rate of 4.04 million in August from 3.83 million the previous month.
Friday: Before the start of trade, the Commerce Department will release its report on orders for durable goods, items meant to last three years or more. Analysts polled by Briefing.com predict the number of durable orders fell by 1.3% in August.
Later Friday, the Commerce Department will also report on new home sales for August. Analysts expect sales of newly constructed homes rose to an annual rate of 290,000 last month from 276,000 in July.