Forbes 400: The super-rich get richer
NEW YORK (CNNMoney.com) -- The super-rich got even wealthier this year, despite the stumbling economy.
Forbes magazine released its annual list of the 400 richest Americans on Wednesday, and their combined net worth climbed 8% this year, to $1.37 trillion. Wealth rose for 217 members of the list, while 85 saw a decline.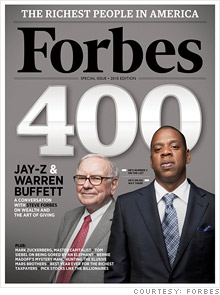 Bill Gates is yet again the richest man in America. The founder of Microsoft (MSFT, Fortune 500), the world's largest software maker, is first on the Forbes list with an estimated fortune of $54 billion, up from $50 billion in 2009. He's followed by billionaire investor Warren Buffett, who is worth $45 billion.
Larry Ellison, chief executive of Oracle (ORCL, Fortune 500), stood at No. 3 with $20 billion.
Christy Walton took the No. 4 spot, while members of her family -- whose fortune comes from Wal-Mart (WMT, Fortune 500) -- took spots 7 through 9.
Charles and David Koch, of private energy conglomerate Koch Industries, tied for No. 5 at $21.5 billion each. Both men saw their wealth skyrocket by $5.5 billion from 2009.
Michael Bloomberg, the mayor of New York City, rounded out the list at No. 10 with $18 billion.
Facebook founder Mark Zuckerberg, who clocked in at No. 35 on the list, saw his wealth rise 245% over the year -- the largest percentage increase on the list.
Forbes said 16 new members joined the list this year, including Facebook's Dustin Moskovitz and Eduardo Saverin. At 26 -- 8 days younger than Zuckerberg -- Saverin is the new youngest on the list.
By contrast, 34 people fell off the list this year. One notable drop-off is Raj Rajaratnam, founder of the Galleon Group hedge fund, who is facing 185 years in prison,
Despite the recession, finance and investment industries continued to dominate the list; 55 members are from the finance industry, while 54 are from the investments sector.

Did you get a factory job? Have you recently been hired in the manufacturing industry? Tell us about itand you could be featured in an upcoming story on CNNMoney.com.