Yields edge lower on jobless claims data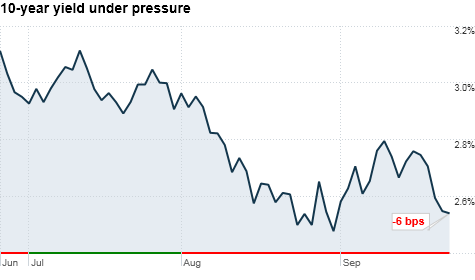 NEW YORK (CNNMoney.com) -- Treasury yields dipped Thursday, ending slightly lower after a worse-than-expected reading on jobless claims fueled worries about the economic recovery.
What yields are doing: The yield on the benchmark 10-year note ended the day unchanged at 2.55% after falling in earlier trading. Bond prices and yields move in opposite directions.
The yield on the 30-year bond slipped to 3.73% from 3.74%, and the 5-year note fell to 1.31% from 1.32%. The 2-year note's yield dropped to 0.42%, below its record closing low of 0.43% hit Tuesday.
What's moving the market: The number of people claiming unemployment benefits for the first time jumped by 12,000 to 465,000 last week, the Labor Department said. Economists surveyed by Briefing.com had expected claims to ease to 450,000.
Meanwhile, the National Association of Realtors reported that existing home sales rose 7.6% in August. But that did little to comfort investors. The housing market remains weak, with sales down more than 21% from June and 19% from a year earlier.
Traders also remain on edge after the Federal Reserve voiced concern earlier this week about deflation and a slowing recovery, saying it was prepared to provide additional support to the economy, if needed.
The Fed had previously announced a plan to reinvest proceeds from its portfolio into Treasurys. But in the statement after Tuesday's policy meeting, the Fed said it was willing to resume buying Treasurys outright - a practice known as quantitative easing - if the economic recovery stalls.
That means traders are closely watching economic data in the coming weeks for indications of whether the economic recovery is improving or stagnating, with disappointing readings such as Thursday's jobless claims report adding to worries that the Fed will boost its bond-buying.