NFL ticket prices on the rise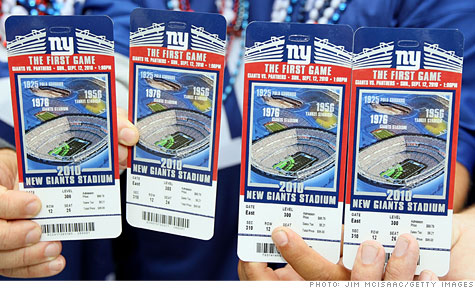 NEW YORK (CNNMoney.com) -- The average ticket price for professional football games increased 4.5 percent this year to $76.47, even as some teams struggled to fill every seat.
The increase comes largely at the expense of the fans of the New York Jets and New York Giants, who face ticket price increases of 38.1% and 26.0% respectively. Both teams play in a $1.6 billion new stadium in New Jersey.
But prices pushed higher despite 15 NFL teams either keeping rates steady or lowering prices, according to a survey conducted by Team Marketing Report, a group that tracks ticket prices.
In fact, only nine of the NFL's 32 teams have prices above the league average, with New England Patriots fans forced to fork over the most cash for a ticket: $117.84.
David Carter, executive director of USC's Sports Business Institute, said the tough economy is certainly playing a role in pricing decisions made by management, and that some teams soften the blow of a price increase by including price breaks on concessions or parking.
But fans that buy tickets as part of season ticket packages should consider themselves lucky. The increase in the average face value of tickets is dwarfed by resold tickets in the secondary market.
The average price of a resold ticket to an NFL game is up nearly $100 from last year, according to data from FanSnap, a website that acts as a search engine for tickets that are resold online.
Success on the field seems to be pushing those prices higher. Tickets for reigning Super Bowl champion New Orleans Saints games increased 264%, to an average of price of $404.
But the rising prices may become a problem for teams. That's because it could lead to unsold seats and more television blackouts, which tend to further alienate fans. If tickets don't sell out within 72 hours of game time, the games are not shown on television in the team's home market.
One team already hit by a blackout, the Tampa Bay Buccaneers, is offering discounts in order to increase attendance.
According to team spokesman Jonathan Grella, the sales problem is grounded in economic conditions.
"This area is struggling and it's unfortunate," Grella said. "We're hoping that when economic conditions improve, our fans will return to the stadium."