Treasury yields sink along with sentiment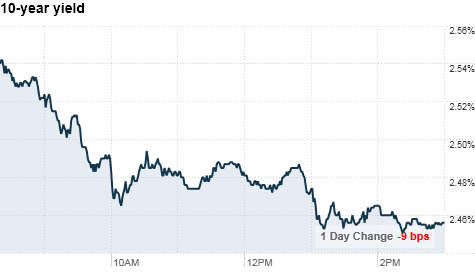 NEW YORK (CNNMoney.com) -- Treasury yields sank Tuesday as investors responded to a disappointing report on consumer confidence and the U.S. auctioned $35 billion in 5-year notes.
Investors flocked to the safe haven investments following a report that consumer confidence slumped to its lowest level in 7 months in September. Yields remained under pressure amid a weekly offering of $100 billion in U.S. debt.
Since Treasurys are backed by the U.S. government, they are viewed as low-risk investments. Demand for government debt is typically stronger during times of uncertainty.
"The hope has been that the consumer is coming back and will help get the economy's engine running again and spur job creation," said David Coard, head of fixed income trading at the Williams Capital Group. "But instead we're seeing consumer sentiment is at multi-month lows, which is adding to the mounting evidence that's showing the economy is still weak."
What yields are doing: The yield on the benchmark 10-year note fell to 2.46% from 2.53% late Monday. Bond prices and yields move in opposite directions.
The yield on the 30-year bond ticked down to 3.67% from 3.72%. The 5-year note dropped as low as 1.24%, the lowest since December 2008. That compares with 1.29% late Monday.
The 2-year note's yield was unchanged at 0.43% from 0.44%. It continues to hover near its record low of 0.42% hit last week.
What's on tap: The government sold $35 billion in 5-year notes, the second in this week's sales of $100 billion in newly-printed Treasurys.
Investors submitted bids totaling $103.3 billion at Tuesday's auction. The bid-to-cover ratio, a measure of demand, was 2.96. That compares with 2.83 at the last 5-year sale in August.
On Monday, the government sold $36 billion in 2-year Treasurys and will conclude with a $29 billion auction of 7-year notes Wednesday.
Investors typically opt to cheapen Treasurys and in turn drive yields higher in anticipation of new supply. But concerns about the economic recovery continue to trigger a strong bid for U.S. debt.