RIM falls 3% despite PlayBook announcement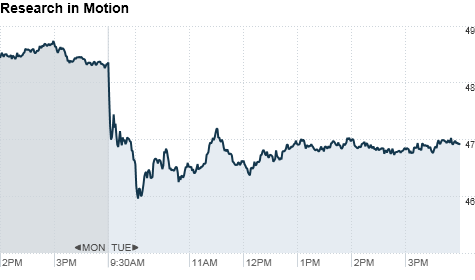 NEW YORK (CNNMoney.com) -- Shares of Research in Motion ended 3% lower Tuesday, a day after the BlackBerry maker unveiled its PlayBook tablet computer.
As expected, RIM made the PlayBook announcement at its BlackBerry Developer conference in San Francisco on Monday.
Analysts were impressed with the PlayBook's specs, which include a 7-inch screen, Flash-capable video and a front and rear high-definition camera. Investors seemed optimistic, too -- RIM shares rose about 2% in after-hours trade Monday.
But by Tuesday, RIM (RIMM) was down as much as 5% shortly after the open before recovering a bit. Investors may have been spooked by the lack of details on pricing, and a release date of "early 2011."
RIM shares lost $1.45 to close at $46.91 Tuesday.
The PlayBook's limited Internet connectivity may also have disappointed investors. For now, the tablet can connect to the Internet only via Wi-Fi. RIM said it plans to offer 3G and 4G models sometime in the future.
Many rival tablets -- including the Apple (AAPL, Fortune 500) iPad -- offer 3G connectivity over a cell phone network.
RIM's stock is down more than 30% so far this year as investors remain concerned that the company is falling behind Apple. Also, smartphone makers have increasingly been using Google's (GOOG, Fortune 500) Android operating system.
Still, analysts at Stifel Nicolaus said in a research note that they were "pleasantly surprised" by the tablet's features.
"RIM has been widely criticized for falling behind on the innovation curve .... the new tablet appears to put RIM back on the leading edge of technology," the Stifel analysts said in their note.