Oprah's next act: Full version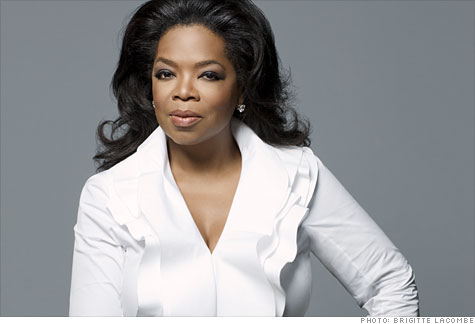 FORTUNE -- Oprah Winfrey was headed into her "la-di-da years" -- her term for semiretirement -- when David Zaslav came along and wrecked her grand plan. The queen of TV talk had never met the CEO of Discovery Communications until he arrived at her Chicago office in April 2007 with a proposition. "OWN: The Oprah Winfrey Network," Zaslav said, pitching the notion that they create a cable TV network together. "I don't want your money," he told her. "I want you."
Within months, Oprah had agreed to a fifty-fifty partnership in which Discovery (home of the Discovery Channel, TLC, and other nonfiction programming) would invest $100 million in the new network -- all about Oprah's mantra: "Live your best life." And indeed, she didn't put in a cent of her own money. Instead she contributed something far more valuable: her time and her brand.
There has never been anyone in media like Oprah. Part Johnny Carson, part Rupert Murdoch, part Anna Wintour, she is a TV legend, media mogul (No. 6 on our Most Powerful Women list), and tastemaker all rolled into one. The Oprah Winfrey Show, which she owns and which is seen in 146 countries, is the most successful daytime program in TV history, with 12.6 million viewers at its peak. It's the place where Facebook CEO Mark Zuckerberg announced he would donate $100 million to improve education in New Jersey; the same week, Bill Gates riffed about reforming education nationally. A mere mention on Oprah's show can catapult a book or hand cream or cupcake to bestseller status. Through Harpo Inc., her private holding company (2009 revenue: roughly $315 million), Oprah has created other living "brands" besides herself: Dr. Phil, Dr. Oz, and design expert Nate Berkus. "What Oprah has accomplished on air and off is truly mindboggling," says Jeff Zucker, CEO of NBC Universal, whose cable networks will compete with OWN. "It's hard to imagine that there will ever be anything close to that in media."
The initial deal between Discovery Communications and Oprah, she explained in a recent, exclusive interview with Fortune, required her to appear on OWN just 35 hours a year, and restricted her broadcast TV work. But after a quarter-century producing and starring in daytime TV's most lucrative syndicated show, she could live with that. Before Zaslav came into her life, "I was going to do a syndicated program à la The View and be on it two or three times a week," she tells me, lounging on a sofa in her cozy office, with 15 Emmy statuettes gleaming on a mantel above her. Her vision of her future: "La-di-da, I'll do a show and then I'll go have lunch with my lady friends in Santa Barbara."
So much for that life plan. OWN was announced in January 2008, and drama soon followed: The network lurched through two years of launch delays, management tumult, and internal confusion about what kinds of shows to do. What's never been revealed publicly, until now, is the extent to which Oprah struggled with her own commitment -- and how that struggle nearly scuttled the deal. In April of 2009, Zaslav returned to Chicago, hat in hand. "The world has changed," he told Oprah. Blaming the recession and the collapse of the TV ad market, he said he needed to alter the deal. "I need more of you," he said. Not only did Zaslav demand more Oprah on OWN, he insisted she leave broadcast TV entirely. "If you want to walk away from this, okay," he told her. "But if you're going to be in, you need to be all in." Recalls Oprah: "I wasn't pleased. I wasn't pleased at all."
Sometimes there is power in surrendering -- as Oprah has told many a tearful TV guest in the middle of some debilitating personal crisis. She says she weighed the options that Zaslav presented and asked herself, "Do I want to take on this level of responsibility?" But Oprah didn't get to be the most powerful woman in the media universe by saying no to opportunity. She agreed to increase her presence on OWN to 70 hours annually, from 35. In August, Discovery disclosed that it had sunk $89 million more into OWN, and that as part of her 70-hours-a-year pledge Oprah would host Oprah's Next Chapter, a globetrotting interview show. "So that's my all-in commitment," Oprah says, with a sense of relief. At least the woman knows her price.
Her gutsiest move yet
The story of Oprah Winfrey's rise from poverty in rural Mississippi to local talk-show host to international superstar is by now well known. Yet for all her gutsy moves (remember, she made her acting debut in Steven Spielberg's 1985 film The Color Purple and got an Oscar nomination), none is as bold -- or as risky -- as OWN. Oprah, 56, has complete creative control of OWN, which will take the place of Discovery Health, which reaches 77 million homes, on Jan. 1, 2011. Between now and then she will be busier than ever: She's hard at work on developing original programming for OWN (her official title at the network is chairman) while at the same time shooting the final 130 episodes of The Oprah Winfrey Show this TV season. She'll finish shooting next May, and the program will exit broadcast TV on Sept. 9, 2011. Needless to say, Oprah notes, "I've had to shift from quasi-retirement mode."
With $189 million in Discovery funding and an asset as big as Oprah at its core, this is a big deal -- and with all the gossip around OWN, probably the most "watched" cable-TV venture before it's even on the air. Many people wonder: Why is Oprah endangering a platinum asset such as Oprah? While top cable networks deliver profit margins of more than 50%, startups in today's fragmented media market tend to be moguls' pipe dreams. When he launched Fox Business Network in 2007, Rupert Murdoch said he would spend $300 million in hopes of beating CNBC in the ratings in three years. Fox Business Network has turned out to be a very expensive pursuit. This fall's fate of Martha Stewart, who built her brand on broadcast TV, should give Oprah pause: Martha moved her show to the Hallmark Channel, where she hopes to build a full slate of programming, and so far she is attracting one-quarter the viewership she had on broadcast TV.
OWN actually has been percolating in Oprah's mind for almost two decades, but fear and a sense of her own limitations kept her from acting on it. In 2001, when Fortune did the only business profile of Oprah Inc. that she had ever agreed to do, she told me that during a 1992 vacation with her longtime boyfriend, Stedman Graham, he scrawled on a piece of paper: "OWN: The Oprah Winfrey Network." He told her that a cable network was her calling. She loved the idea but loathed the notion that she was a businesswoman. Her psychological hang-up, as she explains: "If I'm a businesswoman and a brand, where is my authentic self? If it's all 'busni-fied,' where's the authenticity?"
Just recently, though, she has embraced her business identity. "Now I accept that I'm a brand," she says. "Part of my own personal growth is recognizing that." She's also recovered from the sting she felt 12 years ago when she invested $20 million to help start Oxygen Media, the female-focused cable network now owned by NBC Universal. Oxygen turned out to be a poor investment and a personal embarrassment as it veered into tawdry programming. "That was a great lesson," she says. "You do not deal where you don't have a say." (Winfrey sold her stake in Oxygen before NBC Universal acquired the network in 2007.)
Though she can share her wisdom and worldview through her multiple media outlets, her main stage, for now, remains The Oprah Winfrey Show. But of late she's realized broadcast television is an increasingly limited platform.
A big reason: The audience that watches the Oprah show, like virtually every program on broadcast television, is shrinking. Last season Oprah averaged just under 6 million viewers, vs. more than 12 million a decade ago. Meanwhile, cable is drawing viewers and advertisers and stars such as Conan O'Brien, who is moving from NBC to TBS (which, like Fortune, is owned by Time Warner (TWX, Fortune 500)). The most buzzed-about program on television, Mad Men, is on AMC, a second-tier cable network.
By populating and evangelizing on OWN 24/7 -- a daunting 1,200 hours of programming a year -- Oprah realized that she had the opportunity to increase her impact on the world and make some nice money along the way. Bank of America Merrill Lynch media analyst Jessica Reif Cohen thinks that OWN will attract more than $145 million in ad revenue in its first year of operation. (That would put OWN in the league of such cable networks as The Weather Channel and Animal Planet, according to SNL Kagan.) Depending on ratings, it could turn a profit of $100 million in year three and grow significantly from there -- making it one of the most successful media launches this past decade, rivaling the introduction of O, The Oprah Magazine, a partnership of Harpo and Hearst, in 2000.
Not that any of this matters to "authentic" Oprah, who insists she cares more than anything about being true to her viewers. "My fear about 'Will the people really follow me?' -- I'm past that," says Oprah. This past summer, she says, she was reading a magazine article about Michael Jackson and was riveted by a quote from a former colleague of the late superstar. The friend said that after Jackson released Thriller in 1982 and it became the all-time best-selling album, he was paralyzed by the notion that he could never top that. "All the bells went off," says Oprah. "This is why I lived in fear about this network. I kept thinking I have to repeat the 25-year phenomenon of the Oprah show." She adds: "I don't want to be Michael Jackson."
A new chapter, a new crew
Oprah is moving out of her comfort zone in many ways. For one thing, she is changing the cast around her. For decades her inner circle was composed of Graham and Gayle King, her best friend (who will have a talk show on OWN), and a couple of Harpo bosses who worked hard to be invisible: Jeff Jacobs, her longtime lawyer, who headed Harpo until he left in 2002, and Tim Bennett, who ran Harpo's production unit from 1994 to 2009. Bennett, who was Oprah's boss 25 years ago when she started on local TV in Chicago, retired as Harpo Inc. president in May.
In contrast, the new crew that's helping her build OWN is a bunch of big-name media-industry honchos. There is Zaslav, who has invigorated Discovery Communications by pumping up the drama (shows like Deadliest Catch on Discovery), the trauma (River Monsters on Animal Planet), and extremism (Sister Wives, about a polygamist and his family, on TLC). Discovery's (DSCA) stock price has tripled since he moved from NBC Universal in early 2007. Early last year Zaslav hired Peter Liguori, a former programming chief at Fox Broadcasting, to be Discovery's COO and the overseer of OWN. Liguori finds working with Oprah to be a little different from working with the big boss at Fox, News Corp. CEO Rupert Murdoch. "Rupert uses a bit more fear and intimidation," Liguori says. "Oprah barters in hope and expectation. Both get results, but one is a lot better to experience than the other."
Tom Freston, who built MTV Networks and later became CEO of parent Viacom (VIA), is a key adviser to Oprah. In 2006, weeks after Viacom chairman Sumner Redstone fired Freston, Oprah, who had never met the man but had heard great things about him, tracked him down in Burma and tried to woo him to head Harpo or OWN. The free-spirited Freston declined. But he agreed to help Oprah with her new venture. Freston was instrumental in recruiting former MTV chief Christina Norman to be CEO of OWN. "She left MTV of her own volition -- burnt out and ready to reinvent herself," Freston says. Norman arrived in early 2009, when tensions with Zaslav were reaching their peak and Oprah's commitment to OWN was on the brink. This put Norman in an awful position, unable to green-light shows and make other big decisions. "This is part of the reason OWN was stagnant," Oprah says. "I was the holdup."
Norman, who is pragmatic and strong-willed, has helped Oprah figure out what to put on the air. (Besides Oprah, that is.) Early on, Oprah wanted to give shows to her favorite spiritual gurus, writers like Gary Zukav and Eckhart Tolle, but Norman's rule of programming: "No spinach." Oprah came around: "Television is television, and you still need a strong element of entertainment," she says. You just have to be creative. When Oprah wanted to do a show about workaholic parents who spend too little time with their children, OWN brought in Kidnapped by the Kids. In this reality series, the children of work addicts literally capture their parents and take away their e-mail access and office time until they change their ways.
OWN opted to go with reality programming, which costs less than scripted shows. You'll see a blend of entertainment, education, and "personal growth" content. There's even a bit of edge: Rosie O'Donnell will have a talk show on OWN. As a co-host of ABC's The View a few years ago, O'Donnell alienated viewers with her abrasiveness and left the show. Isn't Oprah worried that Rosie will be too brash and polarizing on OWN? "No, it doesn't worry me," Oprah replies. Does she think about it? "Of course," she says, crisply.
In fact, Oprah thought enough about the Rosie risk that she took Freston, Norman, and OWN chief creative officer Lisa Erspamer to see O'Donnell at her home in the suburbs north of New York City. She recalls the June visit: "Rosie said, 'I know you're here to assess how crazy I am.' I said, 'Basically, yes. I'm doing a crazy check.' " Rosie's children were running around the house and the yard that day. "What I found is that she is so generous as a mother," Oprah says. But, she says, she warned O'Donnell that she had better behave on OWN: "If you have an issue that's causing a problem, speak to me, woman to woman, so that it doesn't become a worldwide issue."
In a cable universe more outrageous than ever (see Real Housewives of New York City ... New Jersey ... Orange County ...), Oprah seems ready to compete. She recently booked Sarah Ferguson, the Duchess of York, to star in a six-part docuseries on OWN. Oprah tells me that she and the duchess got to know each other last May, when they met for a TV interview. Afterward, the duchess started e-mailing Oprah and sharing her anxiety about losing her fortune, having to lay off her staff, and learning to live like the rest of us. "Oh, my God, Sarah's transition to the real world. It's a TV show!" Oprah said to Erspamer, OWN's programming boss. Oprah was nervous, she says, when she called the duchess and gently suggested that she star in this reverse-fairy-tale reality show on TV. "That sounds delicious!" replied the duchess, who, says Oprah, now e-mails her virtually every day. The series will be called Finding Sarah, Oprah says, "because all this time, she hasn't known who she is."
As for the queen herself, Oprah will appear on every episode of Master Class, which will feature superachievers -- pals like Simon Cowell, Jay-Z, and Condoleezza Rice -- sharing life lessons. Oprah will also be front and center in Behind the Scenes: Oprah's 25th Season, a docudrama that currently has camera crews taping Harpo execs at work and at home daily. (That show's opening episode will feature Oprah in her bathtub and then getting on with her day -- and last season.)
Only in Oprah's self-referential universe is there room for Your Own Show, a series about a talent contest to get your own gabfest on ... OWN. Instead of hosting another in-studio talk show, Oprah is thinking bigger. Next summer, after she does her 4,500th or so Oprah Winfrey Show, she will begin taping Oprah's Next Chapter, which is likely to air in primetime two or three times a week. The series, which was her idea, will show her running around the globe, exploring places she's never been, like the Sahara desert, and interviewing locals.
It sounds exhausting. But, she says, she's dying to get out of the TV studio where she's done The Oprah Winfrey Show for a quarter-century. "I'm so tired of the chairs," she says, referring to both the seats and some of the people who have sat on them. "For me, it's about getting out of the chairs and into the hearts of people's lives." She adds, "I want to expand Americans' views of other people in the world."
From the Midwest to the West Coast
Why does Oprah keep striving? It's not the money, she insists -- although OWN, if successful, could add to her net worth, now an estimated $3 billion. When I ask Oprah if her goal is for OWN to be a top 10 cable network in three to five years, she replies, "No -- technically, I don't think in terms of being in the top 10. But do I think we will be? Yes." If it lives up to expectations, OWN could be worth $3 billion or more in a few years, analysts say -- and remember, she owns half of OWN.
Though the network isn't on the air yet, it already is a hit with one important constituency: advertisers. Two car companies, General Motors and Nissan, have struck deals to advertise on OWN and OWN.com, the network's website. "Our tie-in is with the shows that Oprah herself is going to be on," says GM's U.S. marketing chief, Joel Ewanick. "That's the premium position." The largest ad deal, worth an estimated $100 millionplus over three years, came from Procter & Gamble (PG, Fortune 500) last spring, after Oprah hosted a splashy presentation and dinner for advertisers in New York City. Julie Gardner, chief marketing officer at Kohl's Department Stores, sat next to Oprah at dinner that night. When Gardner and her team went to OWN's offices in Los Angeles to kick off the Kohl's (KSS, Fortune 500) partnership a month later, Oprah popped into the meeting, took a seat at the conference table, and stayed the entire hour and a half. "You know what that told me?" says Gardner. "It told me she's all in."
With her network operating out of Los Angeles, Oprah's presence in Chicago, Harpo's headquarters city and her home base since becoming host of AM Chicago in 1984, is sure to diminish. Will she move out of Chicago? Mentally, she already has. She tells me that she's viewing her 13,000-square-foot apartment off Michigan Avenue as "a place to sleep" and is "thinking about how I'm going to dismantle it." She has been sticking mental Post-it notes on her furniture, she says. "I will keep a part of my apartment. I'm probably going to keep the tiniest part." That's about 3,000 square feet. For Oprah, it's just enough to throw down her bags when she's back in town for Harpo business.
She plans to spend more time on her 1,400-acre ranch in Hawaii. ("I love land the way other women love shoes.") But her main residence will be her 42-acre estate in Montecito, Calif., near Santa Barbara. "My sanctuary," she calls it. One of her neighbors, besides Freston, is a former industrialist named Robert Veloz who sold her the property for $50 million in 2001. She says that Veloz warned her: "Don't retire." Retiring, he told her, is the biggest regret of his life.
Before I leave her office, after we've talked for more than two hours, I ask Oprah how she will define success in her next chapter. She goes into a riff about serving the viewer and hoping that some people have "a little more light" in their lives because of her. It sounds small and precious, I tell her. She agrees. "Playing small doesn't serve me," she says and goes on about the impact she hopes to have. "The truth is, I want millions of people. I'm not one of those people who says, 'Oh, if I change just one person's life ... Nope, not satisfied with just a few. I want millions of people!" Jubilantly, she raises her arms to the sky, reaching for whatever is up there.