Highest property taxes in the country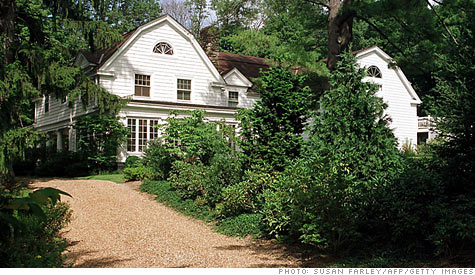 NEW YORK (CNNMoney.com) -- Suspicions confirmed: Homeowners in the Northeast pay the highest property taxes in the nation.
New Jersey residents pay the highest annual tax bill of any state - a median $6,579 per year, according to the Tax Foundation, which calculated the tally using data the U.S. Census Bureau released on Tuesday.
Connecticut comes in second place ($4,738), followed by New Hampshire ($4,636) and New York ($3,755).
Of course, the reason for high taxes vary. You don't want to feel too bad for New Hampshire, for example. They don't pay income or sales tax.
"It comes down to two things," said Gerald Prante, senior economist with the Tax Foundation. "The demands for services placed on governments and the reliance on property taxes as opposed to other sources of revenue."
Some local governments simply offer more services to taxpayers, spending more on schools, for example. Citizens demand services and must pay for them.
The lowest-taxed homeowners live mostly south of the Mason-Dixon Line, with Louisianans the lowest taxed of all. The median there is a microscopic $243. Other low-tax states are Alabama ($398), West Virginia ($464), and Mississippi ($508).
Louisiana is able to keep taxes low because it has access to lucrative oil and gas revenue. Instead of taxing residents, it taxes oil extractors. Of course, that raises prices for gasoline, effectively taxing drivers across the country.
"Louisiana exports a large portion of its taxes," said Prante.
Taxes don't reflect home value losses
Property taxes have remained high across much of the country despite plunging home prices.
"A lot of places are trailing the market, not lowering taxes to reflect the lower home values," said Bruce Hahn, president of the American Homeowners Grassroots Alliance. "There's a lot of pressure on tax assessors to keep assessments up because state and local governments depend so heavily on property tax revenues."
In the Northeast., many homeowners pay more than 10% of their incomes toward property taxes alone. In Passaic County, N.J., the median homeowner devotes 9.68% of income -- $7,939 -- to property taxes.
Westchester County, N.Y., has the highest property taxes of all 792 high-population counties (65,000 and up) in the United States. The median of $9,044 is more than four times the national median, although Westchester ranks only seventh nationally for taxes as a percentage of income at 8.24%.
Other heavily taxed county residents are in Nassau ($8,940) and Rockland ($8,542), both in suburban New York, and Bergen ($8,708); Hunterdon ($8,671) and Essex Counties in New Jersey ($8,245), also N.Y. suburbs.
On the other end of the county spectrum are Apache County, Ariz. ($135), plus St. Landry ($138), Lafourche ($150) and Rapides Parishes ($157) all of which are in Louisiana.