Government wants up to 62 mpg by 2025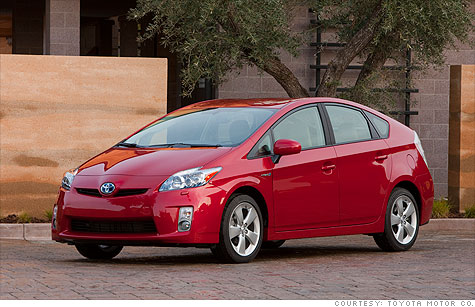 NEW YORK (CNNMoney.com) -- The federal government is looking to raise corporate average fuel economy requirements to something between 47 and 62 miles per gallon by 2025, according to documents released Friday by the National Highway Traffic Safety Administration and the Environmental Protection Agency.
Currently these requirements, known as CAFE, call for an increase in fuel economy to an average of 34.1 mpg by 2016.
The requirements proposed Friday are for the next round of fuel economy increases scheduled to begin in 2017.
The government's proposed 2025 goal would reflect annual increase of 3% to 6% per year from 2017 to 2025, according to a Notice of Intent issued by the agencies.
Not a done deal yet: The proposed fuel economy changes still need to go through various steps before the final rule that automakers must adhere to is announced on July 31, 2012.
The fuel economy figures used to calculate CAFE don't reflect "real world" driving. According to the agencies, real fuel economy figures run about 20% lower than the CAFE numbers.
The cost of vehicles would increase by anywhere from $770 to $3,500 as a result of these goals, the agencies said in a report.
Meanwhile, the average owner could save between $4,900 and $7,400 in fuel costs over the lifetime of a 2025 model year vehicle, even factoring in the added cost of the car itself, the report said.
Hybrids need to pick up the slack: The upper goal of 62 mpg would require significant sales of electric vehicles, according to the agencies' report. Plug-in electric vehicles would have to make up 7% to 14% of all car sales by 2025. Non-plug-in hybrid cars, like today's Toyota Prius, would have to make up 55% to 68% of all car sales. Hybrids currently make up only a small fraction of new car sales.
The lower end of the range, 47 mpg, would require that hybrids make up only 11% to 25% of cars sold and fully electric vehicles would not have to make up any significant portion of the new car market.
Several consumer and environmental groups have been pushing for the government to require CAFE fuel economy of 60 mpg or more by 2025.
"Sixty miles per gallon falls at the high end of the range of future standards contemplated by the Notice of Intent," said Mark Cooper, director of research for the Consumer Federation of America. "We look forward to convincing the agencies that 60 mpg is technically feasible and economically practicable, as well as good for consumers and the nation."