The adman behind Old Spice's new life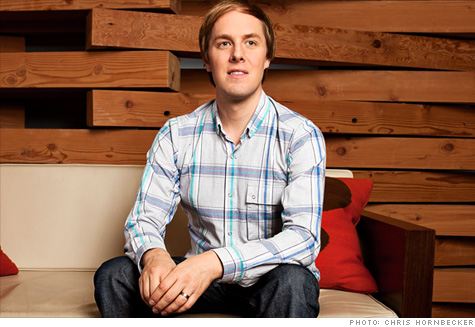 FORTUNE -- If one ad campaign lands in the pop culture file for 2010, it is likely to be the hit spots for Procter & Gamble's (PG, Fortune 500) Old Spice. Surely you've seen them: The tongue-in-cheek ads, dubbed "Smell like a man, man," star a studly, bare-chested Casanova who tells female viewers Old Spice body wash will make their male partners smell like him. It's so hilariously over the top that after making its debut online during the Super Bowl this year, the first spot went viral and has since been viewed more than 20 million times on YouTube. A follow-up ad in June garnered another 15 million views. The agency behind it, Wieden & Kennedy of Portland, Ore., might have stopped there and called it a success had it not been for Iain Tait, 38, the global head of digital creative who joined W&K in April.
Tait's idea: Solicit questions for the "Old Spice Guy" via Twitter and Facebook, then have him answer them in short videoclips online. After thousands of comments poured in from fans and celebrities, Tait and his team shot 186 clips -- including missives to ABC's George Stephanopoulos, actor Ashton Kutcher, and a man who had the Old Spice Guy pop the question to his girlfriend. Within a week, web views of the new videos eclipsed the original TV ads; searches for "Old Spice" on Google soared 2,000%. The original campaign was already a hit, says Advertising Age editor-at-large Jack Neff, but the customized videos sent it over the top. "It outstripped anything that's been done with viral video," he says.
It's a lot of acclaim for the unpretentious, Scotland-born Tait, who, after a brief stint in offline direct marketing, found his niche in web and mobile advertising. In 2001 he co-founded an agency, Poke, where he became known for edgy digital campaigns for clients like American Express (AXP, Fortune 500) and the Orange mobile-phone network. Tait soon caught the eye of W&K co-founder Dan Wieden (who himself made ad history 22 years ago with Nike's "Just do it" campaign). Wieden began courting Tait in 2008, believing he could jump-start the firm's lagging digital business. "We were getting a rap of, 'They missed the boat on digital,' " says Wieden.
Bolstered by the Old Spice Guy, W&K says it has increased digital revenues by 50% in 2010; it has landed new interactive projects for Diet Coke (KO, Fortune 500) and Nike (NKE, Fortune 500). No doubt Tait will make his mark on those campaigns as well. Says Wieden: "He's a major player in the future of this agency."
Iain Tait's advice to up-and-comers
Be ready for change. There are only two things that are certain right now. Change is one of them. The other is that people will continue to overuse clichés about the inevitability of change.
Be malleable. Every organization has holes in it. The most useful people can spot gaps and have the flexibility to act as short-term filler. Anyone who's ever said, "That's not in my job description," probably isn't one of them.
Learn to hustle. Now that everything is searchable, findable, linkable, likable, and ratable, the people who understand how to hustle using online tools are getting ahead. But hustling doesn't mean shouting the loudest.

Consume wildly. There's so much information about everything everywhere. Don't let it overwhelm you. And try not to eat from the same table as your colleagues and competitors. Find strange and inspiring corners to learn from.