Gold ATMs coming to America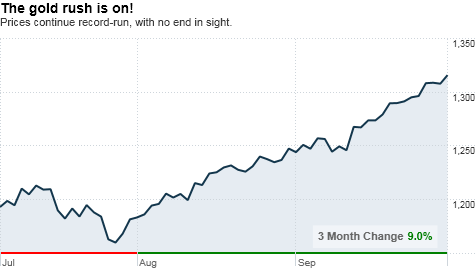 NEW YORK (CNNMoney.com) -- If you want to cash in on the gold rush, you no longer need a passport to get in on the action. The maker of gold ATMs will debut its gold-dispensing machines in two U.S. locations next month.
Twenty ATMs have already popped up in hotels, airports and stores in tourist destinations like Abu Dhabi, Munich and Madrid. And 20 more are waiting in the wings.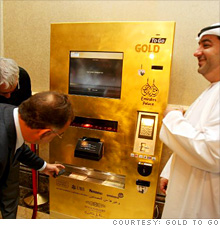 Starting next month, Vegas gamblers and Florida beach bums will be the first to get their hands on the machines in the United States.
Gold to go won't reveal exact locations. But Thomas Geissler, CEO of Ex Oriente Lux AG, which owns Gold to go, told CNNMoney that the ATMs will open in "a well-known Las Vegas casino" and a Floridian resort city -- most likely Boca Raton.
Contracts have been signed for both locations. And the opening dates, which are expected to be in early November, will be finalized early next week.
The ATMs, which dispense gold coins and bars weighing up to eight ounces at prices updated every 10 minutes based on the real-time spot price of gold, churn out 20 to 100 gold pieces a day depending on traffic.
Gold to go's machines began showing up last year amid worries about the health of the global economy. They really gained popularity as euro zone nations' debt ballooned and the U.S. economy remained stuck in a rut.
"When there's a feeling of a crisis, our gold ATMs will make ten times more money," Geissler said. And with gold on a record-breaking streak (prices are above $1,300 an ounce), now is the perfect time to expand the ATM's presence, he added.
With only 25 internal employees and more than 250 requests from locations in the U.S., Gold to go is struggling to keep up with the red hot demand.
"We're feeling pretty overworked right now; all of these inquiries have been a little bit much for us," Geissler said. "But that said, we are very satisfied with our success and are excited to show up in many more locations."
Vegas, baby: "Vegas has always been the best place in the world to spend a lot of money," said Geissler.
After introducing the ATMs in Las Vegas and Florida, Geissler hopes to open ATMs in New York City, followed by Dallas, Los Angeles and Minnesota.
"These cities are where most of the inquiries have come from so far, but we hope to soon be many other places, including Toronto and Vancouver," said Geissler. "Our target is the wealthy and those people who want to secure value with a certain amount of gold instead of having only paper money."
Who's stocking up on gold?: "We see two kinds of clients," Geissler said. "The client who will buy a small gold bar of one or two ounces as a gift, and we see consumers who buy gold for private wealth and buy bars up to eight ounces."
Analysts say the market is limited. For one thing, you can't sell your gold back to the ATM when you want to get rid of it. But most agree that Gold to go has changed the gold-buying landscape by making the precious metal readily available to consumers.