Want to catch gold fever? Try an ETF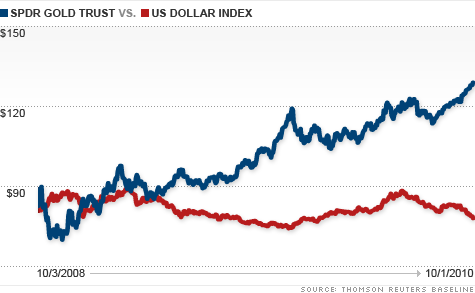 NEW YORK (CNNMoney.com) -- In case you haven't heard, gold has been on a record-breaking run recently. Want to get in on the action? Try an ETF.
Instead of buying gold bars or coins and worrying about expensive security and storage issues, an increasing number of investors -- both individual and institutional -- are buying shares of gold-related exchange-traded funds, or ETFs.
ETFs are securities that track an index, commodity or a basket of assets and trade on an exchange, similar to stocks.
Since its inception seven years ago, the gold ETF market has grown to more than $81 billion. In fact, investment demand in the second quarter surged 414%, compared with a year earlier, according to the World Gold Council.
Even hedge fund heavyweights like John Paulson, who earned his Paulson & Co. fund billions when he bet against the housing bubble, Eric Mindich of Eton Park Capital Management, and George Soros of Soros Fund Management are enjoying the gold frenzy.
The three are among the top shareholders of SPDR Gold Trust (GLD), which has $54.7 billion in assets and is the second-largest ETF, lagging only behind the SPDR S&P 500 (SPY), which tracks the S&P 500 index.
The SPDR Gold Trust is backed by physical gold that is held on the London vaults of HSBC Bank.
"SPDR Gold Trust provides the most efficient way to get access to gold," said Bob Browne, chief investment officer at Chicago's Northern Trust, the second-largest holder of the fund. "It has exposure to physical gold, so it has the most liquidity and transparency. There aren't any surprises, and we like that."
Even though gold has been rushing to record levels nearly every day for the past several weeks (it settled at a new high of $1,317.80 an ounce on Friday), experts say the yellow metal remains a solid long-and short-term investment.
"Gold should play a core role in any diversified portfolio," said Browne, who started scooping up gold ETF shares in the middle of 2009. He says investors who have a moderate tolerance for risk should allocate about 5% of their investment toward gold. "It tends to do well when nothing else is," he said
Gold was rising even prior to the recession, climbing more than 180% over the last five years. Recent panic over the health of the U.S. and global economies and fears that massive amounts of government stimulus may trigger hyper inflation have given prices a fresh lift. That's because gold is seen as a 'safe haven' during times of turmoil.
And as a sluggish recovery and ballooning budget deficits continues to pressure the dollar, experts say gold will continue to push higher and could reach $1,500 an ounce over the next year. Some are even more bullish, suggesting that the precious metal could soar over $2,000 an ounce. Despite the rising forecasts, most experts dismiss the chatter about gold becoming the next bubble.
"I'll be watching for it, but I don't think we're anywhere near a bubble," said Raj Sharma, managing director and private wealth advisor in the private banking and investment group at Merrill Lynch in Boston. "Until you go to a cocktail party and everyone says they're invested in gold, you're okay. That's just not the case yet."
Sharma recommends his clients allocate two-thirds of their gold investment to physically-backed gold ETFs and the remainder to ETFs that track gold mining companies, like Market Vectors Gold Miners ETF (GDX), since they reap high returns when gold prices rise. Market Vectors has even outpaced the rise of gold prices over the last month.