Hyundai, BMW star in new crash test ratings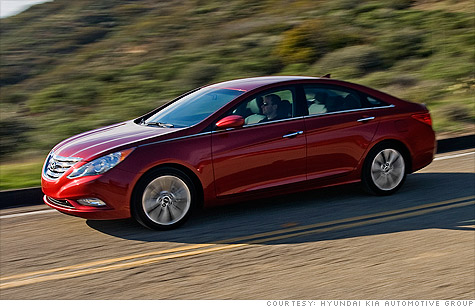 NEW YORK (CNNMoney.com) -- The federal government unveiled the first round of crash test results Tuesday under new, more stringent testing designed to be simpler for car shoppers to understand.
Under the National Highway Traffic Safety Administration's new safety rating system, all vehicles are given a single rating of one to five stars encompassing front and side impact safety as well as resistance to rollovers.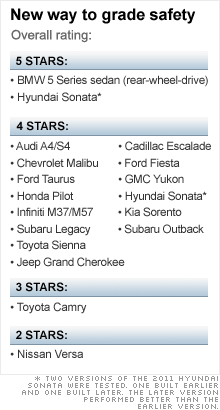 A total of 33 cars were tested in this first round. That figure includes different versions -- like hybrids -- of the various models tested. Most earned four-star ratings.
Only two cars -- the BMW 5-series and the Hyundai Sonata -- earned the top score of five stars.
Contributing to Hyundai's five star score was a quick reaction by the company when an early production run 2011 Hyundai Sonata earned an overall four-star rating.
To get the higher score slight changes were made to the car's structure and restraint system in June, Hyundai Motor America chief executive John Krafcik said.
While other automakers might have waited until the end of a model year to make those small changes, Krafcik boasted, Hyundai made them as soon as it learned of the test results.
"I think it's one of the cool things about our company," he said.
Likewise, only two cars earned less than four stars. Those were the Toyota Camry, which earned three and the Nissan Versa compact car which earned two stars.
"The Nissan Versa has performed well in real world crashes and provides our customers with good real-world safety protection," Nissan said in a statement. "Nonetheless, we will study NHTSA's test results and take the appropriate action to ensure we deliver a high-level of real-world safety."
A spokesman for Toyota pointed out that consumers should not think that the Camry has somehow become less safe. The lower score was the result of revised tests.
More crash tests added: The new NHTSA crash test ratings include a new side crash test in which vehicles slide diagonally into a pole, mimicking a car skidding into a light post or tree.
"With our upgraded Five-Star Safety Ratings System, we're raising the bar on safety," secretary of transportation Ray LaHood said in a statement. "Through new tests, better crash data, and higher standards, we are making the safety ratings tougher and more meaningful for consumers."
Tests are also now done using crash test dummies of various sizes. In the past, crash tests had been done using a dummy that represented an average adult male. For the first time, NHTSA will use female crash test dummies to simulate crashes involving women.
As auto safety has improved over the years, most vehicles routinely earned top scores under the old test regimen. The new tests should make it harder for cars to earn top scores, pushing automakers to improve crash safety even more.
"We are subjecting vehicles to more rigorous crash tests, addressing grade inflation and making it more difficult for a vehicle to earn five-star status," LaHood said in a press conference.
In the past, vehicles were given four separate star ratings -- two each for front impact tests and two for side impact -- plus a separate rollover rating. The new system boils that all down to a single overall star rating.
NHTSA now also provides information information for each car about available crash-avoidance technologies such as lane departure warning, forward collision warning and electronic stability control. This information is not factored into the star ratings however.
All of the vehicle's in NHTSA's first round of tests have electronic stability control as standard equipment, except the Versa, on which it is optional.
Ultimately, the agency plans to rate 55 2011 model year vehicles.
Because the new star rating system includes tests that were not done before, star ratings for vehicles from the 2011 model year onward will not be comparable to ratings for earlier model years.