Ford pulls ahead of its rivals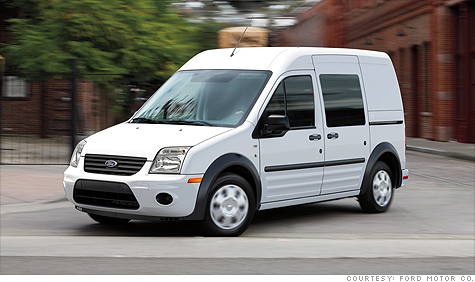 FORTUNE -- General Motors and Chrysler are beginning to make some headway after getting a financial and operational overhaul compliments of the U.S. bankruptcy court. But Ford, operating free of interference by the court or the federal government is moving even faster and is beginning to put real distance between itself and its two domestic rivals.
Ford's U.S. sales in September rose 40% over a year ago, and it has gained retail market share in 23 of the last 24 months. By comparison, GM's sales rose 11% last month.
Meanwhile, Ford (F, Fortune 500) stock, which dipped below $3 per share two years ago, has risen to close to $13. Earlier this week, Morgan Stanley initiated Ford coverage with a target price of $20.
Wrote analyst Adam Jones: "Our forecasts give Ford credit for a transformational turnaround yielding performance far exceeding its own historical averages and places the company among a select group of global automotive firms. "
The momentum is likely to continue. After a slow start, Ford is beginning to take the wraps off a program to electrify its car fleet. By 2015, it expects that 2% to 5% of its global car fleet will be conventional gas-electric hybrids, plug-in hybrids, and all-electric battery-powered vehicles. In the year 2020, Ford expects the share to jump to between 10% and 25%.
Ford outlined its alternative fuel strategy nearly two years ago and is now able to show some tangible results. It brought a number of its battery cars to New York for test drives this week.
First to the market, it is launching a small battery powered van, the Transit Connect in 2010. Such vehicles are considered an ideal battery application because they tend to operate in fleets, simplifying demands for charging infrastructure, and they follow predetermined routes, reducing the incidence of range anxiety.
Next year comes the car that likely will be the centerpiece of Ford's EV efforts, at least in the short term: the battery-powered Focus. Ford is promising a range of 100 miles per charge, which will make it directly competitive with the Nissan Leaf. Ford plans to sell 15,000 to 20,000 Focuses a year.
A test mule provided for journalists neither contained the elaborate instruments that battery vehicles seem to demand, nor tested the promised range. But it started successfully, ran quietly, accelerated smoothly and successfully dodged through New York City traffic in a lap around Ford's West Side dealership.
The Focus exemplifies Ford's common-sense, spread-the-overhead approach to battery-powered vehicles. Rather than go through the expense of developing dedicated electric car models like the Leaf, it is adding electric powertrains to its conventional models in order to maximize economies of scale. That risks dampening consumer appeal, but it should pay off in sharply lower costs.
Ford is also finding surprising efficiencies on the technology. Its plug-in hybrid due in 2011 will get 30 miles to a charge. That means many owners will be able to travel back and forth to work on electric power alone and still have the secure back up of an efficient gasoline engine.
For its next-generation hybrids, Ford is making a risky move. The hybrid Lincoln MKZ coming in 2011 will be sold at the same price as the conventional gasoline-powered one. Since hybrids usually command a $3,000 premium that means that Ford has 1) made a breakthrough on cost, or 2) is willing to eat the extra expense in return for more market share.
Ford's determination to do the smart thing rather than the popular thing, an ethos driven by CEO Alan Mulally, is beginning to permeate the entire organization. A Morgan Stanley report shows a company that has been stripped down and speeded up:
As recently as 2006, Ford was producing 97 different nameplates on 27 separate platforms. After Mercury is put to sleep, it will have just 32 nameplates riding on 15 platforms.
That kind of simplicity pays off in efficiency. Morgan Stanley estimates that the carmaker will generate $682,000 in revenue from each worker, vs. $542,000 in 2006. Writes analyst Adam Jones: "The Ford of 2010 is hardly recognizable vs. the Ford of just a few years ago."
Good thing, because America's automobiles may be hardly recognizable in a few years, either. Last week, the Obama administration proposed increasing fuel efficiency requirements by 3% to 6% annually from 2017 to 2025.
That means that in 15 years, the government will insist that cars get between 47 miles per gallon to 62 miles per gallon. The traditional American V-8 engine will be dead as a dodo by then, and the V-6 may be too.
Ford has read the tea leaves and is trying to get ready. Its strategy of leveraging its global platforms by electrifying existing model lines looks smart as the use of gasoline-powered cars declines.
Battery-powered cars the size of the compact Focus may become the new normal -- and Ford will have the production volume to make them affordable.