Logitech launches $300 Google TV box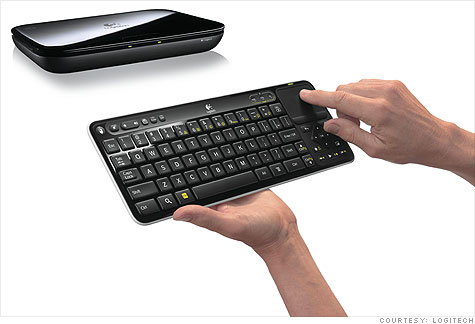 NEW YORK (CNNMoney.com) -- Logitech on Wednesday showed off its forthcoming Revue set-top box, which will be one of the first consumer products to take advantage of Google's new Internet television system.
The Logitech Revue was first announced at Google's I/O conference in May, but few details were available at the time. On Wednesday, the device was listed for pre-order on Logitech's website for $300. Dish Network will have advanced integration with Revue, and Dish subscribers will get a reduced rate of $179 for the box.
Pre-ordered Revues are scheduled to ship by the end of October, when the device will also be available in Best Buy (BBY, Fortune 500) stores.
Google TV, which the company announced in May, is Android-based software that gives televisions access to videos, apps and sites from the Web. Users can toggle between regular television channels and Internet content, using Google's Chrome browser to navigate.
Google (GOOG, Fortune 500) partnered with companies including Logitech, Intel (INTC, Fortune 500), Sony (SNE) and Adobe (ADBE) for its Google TV project. Logitech's device will launch with pre-installed apps from Netflix, the NBA, Twitter, CNBC, Napster and Pandora.
But Logitech hopes that's just the start: "With a huge community of developers creating apps for the upcoming Android Market, there's no telling what your TV will be able to do," the company touts on its website.
Noticeably absent is Hulu.com. Google is reportedly still in talks with the video streaming site, and hopes to reach a deal soon.
Accessories: Logitech also announced add-ons and apps for the Revue box, which comes with a keyboard controller that features a touch pad.
The 6-inch Mini Controller, for $130, offers the same controls in a smaller size. Controller apps will be available for the iPhone, iPad and Android. A $150 TV Cam uses free software to make HD video calls.
Logitech faces immediate competition in the Google TV market. Sony is holding a press event next week to unveil what it calls "the world's first Internet Television." That product -- an HDTV with Google TV built in -- was also first mentioned at the Google I/O conference in May.
The Google TV website says the service will be "on sale this fall," points visitors to both the Sony Internet TV site and the Logitech Revue site.
Other companies are also gunning for the TV-meets-Internet market. Last month, Apple announced the second generation of its $99 Apple TV receiver. Meanwhile, Roku's XDS boxes offer selected Internet video content -- but no Web browsing -- for as little as $59.