Connecting the dots to a Verizon iPhone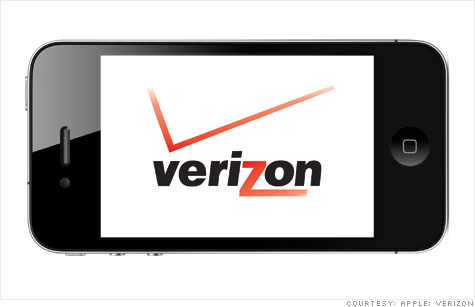 NEW YORK (CNNMoney.com) -- The Verizon iPhone rumors have been ongoing for years -- but this time, the timing is perfect and has all the makings of the real deal.
Clear lines can be drawn between recent announcements, carefully worded statements and upcoming events that sketch out a road map for Apple (AAPL, Fortune 500) to start start selling its iPhone on Verizon Wireless early next year.
The rumor mill started spinning when the Wall Street Journal reported on Wednesday that a Verizon (VZ, Fortune 500) iPhone "would be released in the first quarter of 2011. The phone would resemble the iPhone 4 currently sold by AT&T, but would be based on an alternative wireless technology used by Verizon."
Verizon and Apple declined to comment, but here's a look at the bread-crumb trail they've laid.
Clue 1: "Alternative wireless technology."
Most newspapers and blogs took that to mean CDMA, the wireless standard that Verizon currently uses for its cell network -- as opposed to GSM, AT&T's wireless standard.
But "alternative wireless technology" is more likely to mean Long Term Evolution (LTE), a new wireless technology that was unveiled in a not-so-coincidental Verizon announcement that also landed on Wednesday. LTE is a fourth-generation (4G) wireless network standard that Verizon says will be capable of broadband-like speeds, which are about 10 times faster than 3G speeds.
LTE makes a world of sense for the iPhone. Although Verizon's CDMA network doesn't allow consumers to make calls and surf the Web simultaneously on the iPhone -- a feature that Apple has proudly advertised -- users can do that on LTE. Also, unlike CDMA, LTE has also been embraced by wireless companies around the world as a new universal, global standard. That would make a 4G-LTE iPhone more cost-effective for Apple and easier to sell around the world.
And here's the kicker: Verizon says its 4G network will still be able to deliver broadband-like speeds even when it's taxed by millions of users sucking down data. That hasn't been true of AT&T's 3G network -- especially not in New York City or San Francisco. Many predicted that when and if Verizon gets the iPhone, its network would face the same strains that AT&T's (T, Fortune 500) has, but experts say that's unlikely to happen with a 4G network in place.
"4G is the solution to 3G," said Tony Holcombe, CEO of mobile services company Syniverse. "It has the speed and the bandwidth to manage traffic demands."
Verizon's new network is launching very soon. At this week's CTIA Enterprise & Applications conference, Verizon announced that by the end of the year its 4G-LTE network will be available in 38 major cities, reaching 110 million Americans. The company plans to unveil a host of 4G tablets and 4G smartphones at January's Consumer Electronics Show in Las Vegas.
Clue 2: 4G smartphones in January.
AT&T's iPhone exclusivity contract was set to end in December 2011, according to court documents, but the Journal reported what many analysts had long believed: The terms have been renegotiated, and the exclusivity arrangement will expire at the end of this year.
That means the iPhone becomes a free agent in January. If that's true, a 4G Verizon iPhone announcement at CES would be timed perfectly.
"Apple has traditionally shunned CES and typically announces its iPhones in the summer, but I can see it breaking with tradition to announce a 4G Verizon iPhone there," said Daniel Hays, partner at PRTM. "What better way to make a huge global splash by breaking the mold?"
That would also explain why the phone "would resemble the iPhone 4," as the Wall Street Journal reported. If it's as simple as replacing the phone's GSM chip with an LTE chip, Apple wouldn't need to change anything else about the phone, and a launch of the "iPhone 4G" (or whatever it will be called) in the middle of the iPhone 4's life span wouldn't be too jarring.
"When I saw that Wall Street Journal story, the last dot had been put in place," said Ken Rehbehn, analyst at Yankee Group. "I think you'll see an iPhone coming out on Verizon's new network that's being launched. LTE will give Apple sufficient bandwidth for compelling applications, especially around video."
Clue 3: Video apps!
If you've been in front of a TV in the past three months, you've almost certainly seen a commercial for the iPhone's much-hyped video chatting tool called FaceTime. The problem with FaceTime is that it currently requires a Wi-Fi connection and doesn't run over AT&T's 3G network.
At the iPhone 4's launch, Apple CEO Steve Jobs said FaceTime would be Wi-Fi-only in 2010, and that the company was working with the carriers to make FaceTime available over wireless networks in 2011.
Well, January is in 2011, and Verizon's 4G-LTE network will be up and running by then. It's certainly capable of handling an application like FaceTime.
Of course, nothing is ever quite that simple. Verizon doesn't expect its 4G network to reach the same size as its current 3G-CDMA network until 2013. That means there will be some coverage gaps that will require the iPhone to access Verizon's current, outdated network.
But Qualcomm -- widely rumored to be working with Apple on its "Verizon-capable" iPhone -- has the technology for dual-band chips. In areas where the 4G network is unavailable, phones could simply fall back to rely on the slower but almost ubiquitous 3G system.
After years of speculation, it seems the stars have finally aligned. We're betting January 2011 is the right time for the iPhone to launch on Verizon.