Frugal Friday: Be Gaga. Be Pauly D. But it won't be cheap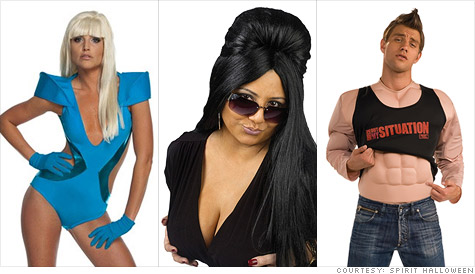 NEW YORK (CNNMoney.com) -- Halloween might as well be sponsored by MTV this year.
The most popular costumes for 2010 come straight from the youth-dominated music network -- and they don't come cheap.
The cast of the Jersey Shore and Lady Gaga top the list of most desirable costumes this year, according to Spirit Halloween, the country's largest seasonal Halloween retailer.
"The abs on the Situation, the hair on Pauly D -- these characters lend themselves to being costumes," said Spirit President and CEO Steven Silverstein.
But knocking off a Jersey Shore look will cost considerably more than some time in the gym and a can of hair spray.
"You can't look cheap and nasty," according to Michael Schweiger, who is the agent for Jersey Shore castmember Paul "Pauly D" DelVecchio. "It's all designer brands, $200 jeans and the sneakers have to be brand new."
Pauly D prefers pricey Republica sunglasses and Lucky jeans, and he only wears designers T-shirts. Although, he makes an exception for a white ribbed undershirt from Hanes -- otherwise known as "the shirt-before-the-shirt" -- that is just $12.
Of course, for those wanting more of a mockumentary than the real thing, a costume of The Situation's abs -- or Pauly D's style -- comes for just $24.99. And Snooki's "poof" is just $16.99. Fist pumping is free.
"The most important thing is the hair, you have to get the hair right, it's got to be done correctly, it's got to be gelled correctly. And then the attitude, you got to be cool," notes Schweiger.
Channeling Lady Gaga is also all about attitude -- and her attire is even harder to pull off. The singer may be best known for the provocative meat dress she wore to this year's MTV video music awards, which is essentially off limits.
"Unfortunately I wouldn't be able to attach a price to this piece," the dress' designer, Franc Fernandez, said in an email. "The handwork itself was something of a masterpiece made by me and my team. There will be no recreations of it for any other clients."
While a few fabric reinterpretations have popped up on eBay for $60-$100, meat dress costumes will be hard to find. Halloween stores offer some less tasty alternatives: A Lady Gaga-esque silver sequined mini-dress from Spirit Halloween is $49.99; the blue swimsuit inspired by her Poker Face video retails for $39.99 (platinum blond wigs sold separately). .
Halloween enthusiasts are planning to spend considerably more than they did last year, according to the National Retail Federation's 2010 Halloween Consumer Intentions and Actions Survey.
Americans will spend $66.28 on costumes, candy and decorations, up 18% from last year. Total spending for the holiday is expected to reach $5.8 billion.
This year, 40.1% of respondents are planning to wear a costume, the highest percentage in the NRF survey's history, and up from 33.4% last year (11.5% will put costumes on their pets as well).
"Halloween has become our national party and even through the economy has been challenged it's an easy escape," Spirit Halloween's Silverstein said.