Home shopping: Where to rent and where to buy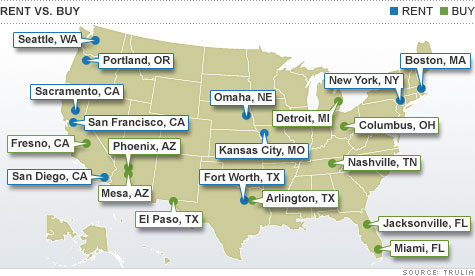 NEW YORK (CNNMoney.com) -- With painfully high foreclosure rates and falling home prices nationwide, you would think now would be a great time to buy a home anywhere in the country.
But that's not true. While cities like Detroit and Columbus boast killer buying opportunities, you're better off renting in places like New York and Seattle, according to real estate website Trulia, which released its quarterly Rent vs. Buy index on Friday.
In calculating whether it's better to buy or rent, economists use a rule of thumb: If the home price is 15 times higher than the annual rent for a similar property, it is better to rent.
To help Americans wavering between renting and buying, Trulia compares the costs of purchasing a two-bedroom condo, apartment or townhome with the costs of renting one across America's 50 largest cities.
Topping the list of cities in which to buy are Arlington, Texas; Fresno, Calif.; Miami; and Mesa and Phoenix, Ariz.
"A lot of these areas are the hardest hit by foreclosures, which means there's cheap housing available," said Ken Shuman, a spokesman for Trulia.
"At the same time, we've also seen a flood of renters enter the market since people who have foreclosed aren't going to go out and buy another home right away, so that's really driving up rental prices and making the difference between buying and renting that much bigger," he added.
In Arlington, for example, the average list price of a two-bedroom home is $70,000. The average price of all homes in Arlington is $108,000, compared to the nationwide average of $175,000. And on top of low prices, homeowners are desperate to sell, said Shuman.
"Sales are down, which gives you good negotiating power and the opportunity as a buyer to swoop in and get something really good," he said.
But Manhattan dwellers shouldn't be as quick to ditch their landlords.
"Home prices have come down in New York, but it's still a lot cheaper to rent," said Shuman. "The average two-bedroom rental is over $3,700 a month. By no means is that cheap, but it's a lot less than a mortgage would be on a $1.7 million property."
Along with Manhattan -- which topped the list of cities where it makes the most sense to rent -- higher home prices and better job opportunities are making renting an increasingly attractive option in cities such as Omaha and Seattle as well.
"Workforce demand has kept prices in these cities at a higher level, relative to other large American cities with less healthy job markets," said Tara-Nicholle Nelson, a consumer educator at Trulia.
Other cities where it's a better bargain to rent instead of buy include Fort Worth, Tex.; Sacramento, Calif.; and Kansas City, Mo.
But even in the most expensive cities to buy a home, you can find great deals out there right now, said Shuman. It just depends how long you plan to stay there.
"The biggest thing to think about is if you plan to stay in your home for 7 to 10 years," he said. "If you're only going to stay there two years it's definitely better to rent in some of these cities, but if you're planning to stay there for a while, it's still a good market to buy even in the renter cities."