Can the Dow blow past 11,000 in the earnings week ahead?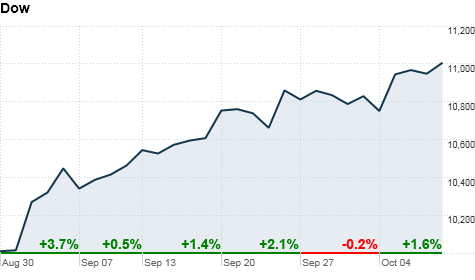 NEW YORK (CNNMoney.com) -- Stocks have climbed five out of the last six weeks, and that momentum is likely to continue as investors digest the first big batch of third-quarter financial results this week.
Earnings season started off with a bang late last week as Dow component Alcoa (AA, Fortune 500) posted profits and sales that topped Wall Street estimates and raised its outlook for the year.
This week three other Dow names report: Intel (INTC, Fortune 500) on Tuesday, JP Morgan Chase (JPM, Fortune 500) on Wednesday, and General Electric (GE, Fortune 500) on Friday. Other major players on tap: Google (GOOG, Fortune 500) on Thursday and Mattel (MAT, Fortune 500) on Friday.
A total of 15 S&P 500 companies will open up their books this week, with most of the rest spread out over the next few weeks.
According to Thomson Reuters, third-quarter results are expected to be up almost 24% from the same period a year ago, when corporate profits dipped 14.7%. That was the last of nine consecutive quarters of negative financial reports.
Revenues are expected to gain 7%, after sinking more than 10% a year ago.
"Earnings season kicks into full gear, and we're expecting generally good numbers as the trend has been all year, which will drive the market higher," said Peter Tuz, president at Chase Investment Counsel. He noted that Alcoa's stock surged almost 6% Friday as investors cheered the aluminum maker's performance and full-year guidance.
Tuz added that traders will keep a close eye on JP Morgan Chase, as it will be the first banking giant to deliver results.
Economic news is fairly light at the start of the week but starts flooding in on Thursday. Investors are likely to focus on Friday's retail sales figures as they try to gauge the health of the consumer.
"August retail sales were decent because of back-to-school season," said Phil Orlando, chief equity market strategist at Federated Investors. "If September sales also come in strong, it's a good sign that we'll see a healthy level of spending during the holiday season."
Since consumer spending accounts for 70% of economic activity, Orlando said indications that Americans are opening up their wallets will likely drive markets higher.
"It would just be another dagger in the heart of all the double-dippers who thought the world was on the edge of Armageddon," he said.
But even if economic news is downbeat, Chase Investment Counsel's Tuz said markets will continue to push higher.
"Ultimately, markets need an improving economy to move higher," Tuz said. "But we're in an interesting situation because weak economic news increases the odds of another round of stimulus from the Federal Reserve, which is positive for markets at least in the short term."
In fact, the stocks rallied to five-month highs on Friday after a sharp drop in the overall jobs figures in September boosted the chances of the Fed stepping in to stimulate the economy.
"I wouldn't call it a rousing win-win situation, but there are positive points to each side of the coin," Tuz said.
On the docket
Monday: There are no market-moving economic or corporate events expected on Monday. The bond market is closed for the Columbus Day holiday, but other financial markets remain open.
Tuesday: The Federal Reserve will release the minutes from its most recent policy-setting meeting.
After the closing bell, chipmaker Intel will report its third-quarter results. The Dow component is expected to have earned 50 cents per share, up from 33 cents a year ago, on revenue of $11 billion, according to analysts polled by Thomson Reuters.
Wednesday: JP Morgan Chase, another Dow component, announces quarterly results before the market opens. Analysts expect the bank booked 88 cents per share during the third quarter, up from 82 cents a year earlier, on revenue of $25.5 billion.
Reports on import and export prices, and weekly crude oil inventories are also due in the morning; the September Treasury budget is on tap for the afternoon. Neither of those are typically not market movers.
Thursday: The Department of Labor releases the weekly jobless claims report in the morning. The number of Americans filing new claims for unemployment last week is forecast to inch higher to 449,000 from 445,000 in the previous week, according to a consensus of economists surveyed by Briefing.com.
Continuing claims -- a measure of Americans who have been receiving benefits for a week or more -- is expected to have fallen to 4.45 million from 4.46 million in the previous week.
The Producer Price Index, a measure of wholesale inflation, is due out from the Commerce Department at the same time. The index is expected to have edged up 0.2% in September after rising 0.4% in August. The so-called core PPI, which strips out volatile food and energy prices, is expected to have risen 0.1% after increasing by the same amount in the previous month.
The trade balance, also due in the morning from the Commerce Department, is expected to have widened to $44.5 billion in August from $42.8 billion in July.
After the close, analysts are looking for Google to post earnings per share of $6.67, up from $5.89 a year ago, on revenue of $5.3 billion.
Friday: The Commerce Department releases the Consumer Price Index, a measure of consumer inflation, in the morning. CPI is expected to have increased 0.2% in September after climbing 0.3% the previous month. Core CPI is expected to have inched up 0.1%, after rising the same amount in August.
The Commerce Department also reports on retail sales before trading starts. Sales are expected to have gained 0.4% in September after having increased the same amount in August. Sales excluding volatile autos are expected to have ticked up 0.4% after a 0.6% rise the previous month.
The Empire Manufacturing survey is due before the start of trading. The regional reading on manufacturing is forecast to have jumped to 6.00 in October from 4.1 in September.
Dow component GE reports quarterly results before the bell. Analysts expect the company to have earned 27 cents per share, up from 22 cents a year ago, on flat revenue of $37.7 billion.
Toymaker Mattel also announces third-quarter earnings.
Due after the start of trading, the University of Michigan's consumer sentiment index, is expected to have increased to 68.6 in September from 68.2 in September.
The August reading on business inventories, due from the government later in the morning, is likely to show an increase of 0.5% after rising 1% in July.