Microsoft unveils Windows Phone 7 devices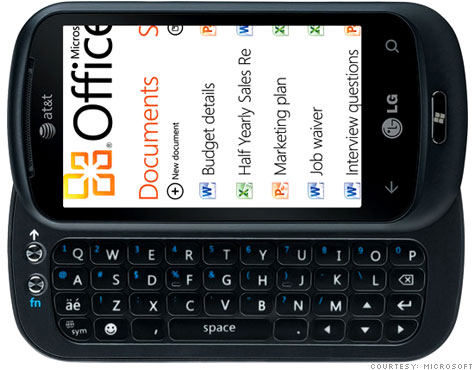 NEW YORK (CNNMoney.com) -- Microsoft on Monday unveiled its plan to battle the iPhone, Android and BlackBerry smartphones with its new Windows Phone 7 mobile operating system.
At a press event in New York, Microsoft CEO Steve Ballmer said that Windows Phone 7 smartphones would be available in the United States on AT&T's (T, Fortune 500) network.
"When Microsoft first showed us Windows Phone 7, we knew it was going to be a winner," AT&T CEO Mobility and Consumer Markets Ralph de la Vega said at the event. "It was different than anything we've seen."
Microsoft (MSFT, Fortune 500) also announced partnerships with Samsung, LG and HTC, which will make devices to run the new smartphone software.
Samsung's phone, called the Focus, will be available on November 8, and the Surround from HTC and Quantum from LG would be in stores in time for the holidays, Microsoft said. All three phones will cost $199.99.
The Windows Phone 7 lineup will eventually include nine phone models available in 30 countries, Ballmer said.
"It's a different kind of phone," he said. "It gets you in, gets you out, and back to life as fast as humanly possible."
Instead of the typical smartphone user interface -- a series of small icons to launch applications -- Windows Phone 7 uses large, dynamic tiles that Microsoft hopes will be both intuitive to use and easy to navigate.
Social networking is baked in, with a "people hub" that tracks updates across a user's contact list. A camera button wakes the phone into shooting mode quickly, so that it is able to almost instantly begin snapping photos. Games are a focus: Xbox Live players can take their accounts on the go, and Electronic Arts is a launch partner, bringing the Sims game to the phones.
Windows Phone 7 integrates deeply with other Microsoft products. Notes taken on phone with OneNote automatically sync to the cloud with Office Live. Along with top-notch support for Microsoft Outlook and Exchange -- which should make corporate IT departments very happy -- the phones offer a spell check that automatically underlines misspelled words with the red squiggly line familiar to Word users.
But one feature was noticeably missing at launch: copy/paste. Microsoft didn't put that in the original code because it didn't think it would be needed, thanks to auto-links between applications, a company executive said. But developers demanded it, and Microsoft plans to add it in an update in early 2011.
Battling rivals: Microsoft has struggled to sell smartphones since Apple's (AAPL, Fortune 500) iPhone and Google's (GOOG, Fortune 500) Android came storming onto the scene in the past few years. Windows Mobile commands less than 11% of the U.S. smartphone market, down from nearly 20% at the same time last year, according to comScore.
Over the past several years, many consumers thought that Windows Mobile began to feel outdated, both in the software itself and the phones that ran it, compared to its suddenly more successful rivals.
As a result, Microsoft opted to scrap its mobile operating system entirely, giving it a new name, a unique look and some compelling features that differentiate it from the competition.
The phone is also important for AT&T, which in all likelihood will be ending its exclusivity agreement with Apple for the iPhone in January.
AT&T is looking to bolster its lineup by the end of the year, and is very committed to throwing a tremendous amount of marketing muscle behind the Windows phones, according to Lloyd Walmsley, senior analyst at Primary Global Research. That should be good news for Microsoft, especially as consumers start to plan holiday gift purchases.
But Microsoft has a lot of ground to make up against its rivals. Research in Motion's (RIMM) BlackBerry now has more than triple the market share of Microsoft, and the iPhone and Android are both twice as big.
"Microsoft is way behind, and knocking Android and the iPhone out of the top spots will be almost impossible," Walmsley said. "I think it's even going to struggle to be a No. 3, but you can never count them out."
To succeed, Microsoft will have to convince potential customers that its unique offerings are compelling enough to pass up an iPhone, an Android phone or even a BlackBerry.